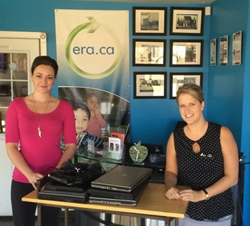 TORONTO (PRWEB) November 21, 2018
The Electronic Recycling Association (ERA) announces a donation of over 500 laptops, computers, printers and cell phones to individuals in need this Giving Tuesday. Every year this non-profit aims to donate more equipment than the last. This year they have succeeded with their donations totalling to 547 devices, a 50% increase from 2017.
Giving Tuesday is a global movement for giving and volunteering, taking place each year after Black Friday. ERA is proud to be part of this initiative and aims to connect businesses and organizations within the community through their donation activities.
The ERA has teamed up with advocates looking to pursue change within the community. Shell Canada, PrinterWorks West Inc. and Alberta's Promise worked in conjunction with ERA to assist with this donation. Twenty Seven do-gooder organizations Canada wide will receive a donation of technology in areas such as Vancouver, Fort St. John, Calgary, Edmonton, Saskatoon, Winnipeg, Toronto and Montreal.
A donation recipient explains, "This donation is a need, not a want and working with companies and organizations like ERA and Shell Canada who give back to the community is so empowering. Knowing that charitable organizations have a voice in the community through these types of channels is fantastic."
"We are ecstatic to work with members of the community who care about our environment and the wellbeing of others. Every year for Giving Tuesday our team at ERA try to outdo themselves by donating that little bit more than the previous year," says Bojan Paduh, President at the ERA.
"This year we dramatically increased the quantity of equipment being donated, which is outstanding. This could not have been possible if it was not for our dedicated partners, we thank you."
Speaking with Jonathan Ceaser, Founder of PrinterWorks West he mentions, "We are extremely excited to be partnering with ERA for Giving Tuesday and look forward to working with their team to help bring our services and expertise to local non-profits in need." Susan Whitley, External Relations Manager for Shell Canada says, "This initiative is one of the ways that Shell Canada contributes to well-being and sustainability of local communities. Shell works with ERA to identify those communities and organizations where the need is the greatest, to enable access to resources that build and strengthen the capacity of schools, service organizations and Indigenous communities.
"Repurposing these items means extending the useful life of the product or device, less electronic waste, and the opportunity to make a difference in someone's life."
Date: Tuesday, November, 27 2018
About the Electronic Recycling Association
Established in 2004, ERA is a non-profit organization directed to reduce the environmental impact of improperly-discarded toxic electronic waste by offering accessible services to help corporations and individuals manage their retiring IT assets. Through industry leading pickup, data removal and reporting/certification services, ERA provides a full-circle solution for e-waste management. With reuse being ERA's top priority, every item that is received is examined for any remaining productive life and refurbished for reuse.
About Giving Tuesday
Giving Tuesday is a global movement for giving and volunteering, taking place each year after Black Friday. The "Opening day of the giving season," it's a time when charities, companies and individuals join together and rally for favourite causes. In the same way that retailers take part in Black Friday, the giving community comes together for Giving Tuesday.
Media enquiries may be directed to:
Jessica Lifely
Marketing Manager
Electronic Recycling Association
jessica(at)era.ca
403-262-4488