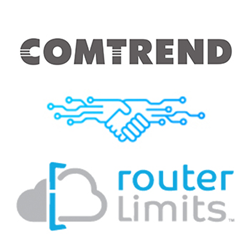 Comtrend's gateways and Router Limits' Internet Management software enable a robust managed service offering for the Service Provider.
IRVINE, Calif. (PRWEB) November 08, 2019
Comtrend, a leader in advanced networking solutions for Service Providers, today announced its partnership with Router Limits, a provider of next-generation Internet management software. This partnership enables Service Providers to offer a robust Internet management solution offering on both their new and existing deployments. Router Limits' software will come fully-integrated in select Comtrend gateways and will be kept up-to-date with their cloud management system. With this solution, end users will have greater control over their network activity and the general health of their networks.
The Internet Management solution includes:
Parental Controls

Parental control features include managing screen time, filtering content, tracking browsing history, and more. This solution manages the Internet at the network level, giving end-users even greater control to regulate all of their connected devices individually.
Mobile Protection

Router Limits' has its own mobile app available that enables end-users to control network management regardless of where iOS and Android are connected (e.g., LTE, school, etc.).
Bandwidth Monitoring

The bandwidth-monitoring tool analyzes data traffic to provide detailed information on throughput usage in real time and identify which devices are hogging data or slowing down their connection.
Speed Testing

The speed-testing tool allows end users to reliably check the speed and status of their Internet. This allows both Customer Service Representatives and subscribers to more accurately diagnose connectivity issues.
Full White Label

Service Providers can offer feature-rich subscriber applications (iOS, Android, and Web) under their own brand and style. By offering branded value-added features, Service Providers can connect on a deeper level with their customers, thus increasing ARPU (average revenue per user) and retention.
Senior Director of Business Development of Comtrend North America, Bradley Joe, states, "We are excited about launching our partnership with Router Limits. Router Limits brings world class Internet management capabilities to both a parent or to a small business owner by enabling simple-to-understand options to customize how you want the Internet to be used in your home or office. Router Limits also controls access to mobile devices via a unique phone app, providing the ability to control usage away from the home or office. This is a compelling solution for Service Providers to add to their services options to increase revenues, reduce churn, and drive increased margin."
As of today, the Router Limits-compatible Comtrend gateways include the WR-6895, VR-3060, and AR-5319. Additional Router Limits-compatible Comtrend gateways will be coming in the near future.
For more information or to request a demo please visit us online at https://us.comtrend.com/router-limits/ or email NA.Sales@Comtrend.com.
About Comtrend
We know Service Providers. Comtrend has been in the business of supporting Communication Service Providers for over 29 years, and we are proud of our history and the partnerships that we have developed. Our mission is to design and manufacture purpose-built solutions for Service Providers, allowing them to easily provide reliable, best-in-class home connectivity to their subscribers. Comtrend remains committed to offering the latest industry technologies, including Fiber and DSL broadband gateways, wireless and Powerline home networking, and leading-edge Service Provider ACS analytics, management, and CAF Reporting Solutions.
http://us.comtrend.com
About Router Limits
Router Limits is a software technology company that's dedicated to endless enhancement, top-notch customer service, and an internet experience that's better and safer for you, your family, and your business than ever before. We provide a better internet experience by helping users to protect their networks from unwanted content, manage screen time, monitor performance, and Take Back the Internet™. Visit us at https://routerlimits.com.