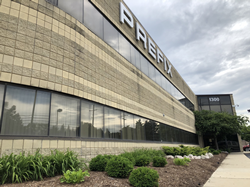 "It's as much of a celebration of our people as it is 40 years in business." explained Prefix President, Eric Zeile. "We sincerely believe we currently have the strongest team in our history."
ROCHESTER HILLS, Mich. (PRWEB) January 23, 2019
In 1979, when Prefix Founder and CEO, Mr. Kim Zeile left big corporate America to start his own company, there is no way he could have predicted what the organization would eventually become. "After 40 years, we are honored to be known as a company that has maintained the nimble, entrepreneurial spirit from our early days even as we've grown from a single small office, to four impressive facilities and nearly 250 people." explained Zeile.
Prefix is one of the country's most highly-regarded companies for the creation of prototypes, concept vehicles, and design mock-ups. They continue to create some of the most technologically advanced and high profile concept vehicle builds in the industry, are helping to develop the latest innovations in electric and autonomous vehicles, and are even involved with movie props and theme park attractions for clients around the globe.
Prefix Corporation originally focused on Engineering services, yet over the last four decades it has broadened its scope to the impressive current list of capabilities required to lead the prototype and concept vehicle industry. "We were very fortunate during our early history to have worked with some amazing clients who have continued to rely on us for projects year after year." continued Zeile. "This has provided us with the ability to invest heavily in our equipment, facilities, and people. And now… as the transportation industry evolves with so many new technologies, we are perfectly positioned to be able to help our customers. We are grateful to our clients for the opportunities to provide them with the solutions needed to bring their innovative ideas to life."
In celebration, the company will commemorate the occasion with a number of industry events and public promotions throughout the next twelve months. "It's as much of a celebration of our people as it is 40 years in business." explained Prefix President, Eric Zeile. "We sincerely believe we currently have the strongest team in our history." Each week throughout the year, the company will highlight various team members within the organization, as well as featuring various milestones and historic and high-profile projects that Prefix has been part of.