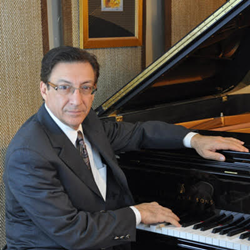 Piano lovers can live all over the world. When they are ready to buy a piano, they could live in a place where it's hard to find a good selection.
DALLAS (PRWEB) February 02, 2020
Concert Pianos, a professional source for pre-owned Steinway pianos to buy at https://concertpianos.com/, is proud to announce a surge in viewership on the company's YouTube videos. Maestro Bruno, a recognized expert in sourcing used Steinway pianos, reviews and tests the sound, condition, and quality of beautiful Steinway pianos. Informative reviews can include the history of a pre-owned piano and how it is calibrated for best sound.
"Piano lovers can live all over the world. When they are ready to buy a piano, they could live in a place where it's hard to find a good selection," explained Maestro Bruno, proprietor of Concert Pianos and a leading expert on sourcing Steinway pianos for sale. "My videos help pianists scrutinize several available Steinways at one time. I discuss everything from the history of the piano to the calibration and condition. The response has been incredible!"
Persons interested in evaluating a selection of Steinway B pianos can review the YouTube video for Concert Pianos at https://youtu.be/iZmoMjPSPnw. The video has reached a milestone of over 4,800 views. In the video, Maestro Bruno provides a comprehensive review of Steinway B models for the public. Access to more information about pre-owned Steinway's, including Steinway B & A, L & O, and M & S models, is available at https://concertpianos.com/. A list of various piano brands for affordable prices is ready to review at http://www.dfwpianogallery.com. Piano accessories, including art cases, benches, and piano strings, are available to peruse. The public can buy or rent a variety of gently-used pianos via the store websites. Persons who are seeking to sell a Steinway Grand piano can visit the companion website at http://pianopartnersllc.com/.
CUSTOMERS MAKE A REAL CONNECTION WITH STEINWAY B PIANOS ON YOUTUBE
Here is the background on this release. If a pianist is ready to select a Steinway B piano, it can be helpful to find a 'kindred spirit' who understands the gravity of making the right choice. A run-of-the-mill customer service representative could be more concerned about the sale than the 'connection' between a musician and their instrument. Speaking to a maestro who is well-versed in the language of pianos might help. An expert passionate about Steinway B pianos might understand the importance of a perfect fit.
For these reasons, Concert Pianos is proud to announce a new milestone on the company's YouTube channel with over 4,800 views of Maestro Bruno sharing his passion for the Steinway brand.
ABOUT CONCERT PIANOS
Based in Dallas, Texas, Concert Pianos is a best-in-class retailer of used and Premium pre-owned Steinway pianos. Under the leadership of Maestro Bruno, Concert Pianos has garnered a reputation as the best place on the Internet to find Steinway pianos for sale, including the popular Steinway model B. Connoisseurs of Steinway pianos seeking to buy Steinway pianos online (or even to sell their Steinway) reach out to Maestro Bruno for expert guidance as to the value of Steinway pianos, how to buy or sell them, and how to find them at the best price. Always ready to talk, Maestro Bruno can be reached via the website and is happy to discuss the opportunities to buy or sell a "dream Steinway piano."