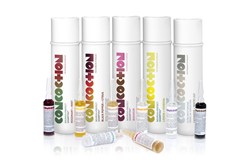 "Who thought Tom Cruise would inspire the next global Haircare trend?"

Anna Hunter - Getthegloss.com
London (PRWEB UK) 14 August 2013
The secret's out about the next global trend in hair-care following Concoction's launch at Selfridges London between 25th July – 7th August 2013. And it's all about custom-mixed couture-haircare individually tailored to you.
Or, as the Concoction® Mixology® Technologists say "It's Shampyou® - where YOU call the shots!"
As one beauty writer, Anna Hunter of leading beauty site Getthegloss.com explains:
"Who thought Tom Cruise would inspire the next global hair-care trend!? Concoction is inspired by the art and science of cocktail mixology; simply pick your shampoo from a choice of four silky, scrumptious sounding base blends and add two shots of whichever 'SuperSerum' would most benefit your hair type. From Thermo-Straight to High Definition Blonde, there's a shot to suit all types and tastes, and if you really need a strong dose of the good stuff you can double up on the shot that your strands are craving. There are eight vitamin-packed shots to choose from, meaning that a staggering 256 individual blend combinations can be created".
The response from customers, beauty bloggers and journalists alike has been astounding.
As Alex Epstein, Founder & Chief Concoction Officer explains:
"Inspired by mixing paint when I was young, I set out to do for hair-care what Nespresso or Starbucks have done for coffee. It's no longer about a Nescafe style 'one size fits all hair types' shampoo, it's about shampoo for you, what we call a Shampyou – an individually mixed personalised shampoo blend for your hair. So if a customer wants a triple shot skinny latte with caramel & a twist for their hair, then that's what we'll give them with their very own Concoction".
Global beauty company and retailer interest has been phenomenal too, with over half a dozen of the world's leading beauty companies & retailers either visiting the Selfridges Mixology Bar, ordering product from http://www.concoction.co.uk, or emailing their interest in listing the brand.
Concoction comes off exclusivity from Selfridges on September 1st 2013, the next retailers of the brand are expected to be announced shortly, along with where the Concoction Mixology Bar will be appearing next…
//ENDS//
All Press & PR enquiries to Nadine Attar of Scoop Publicity-
+44 (0) 207 235 6293 / nadine(at)scooppublicity(dot)com
All Stockist & Distribution enquiries to Alex Epstein of Concoction
hello(at)concoction(dot)me / +44 (0)843 5043080