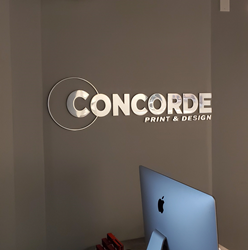 Digital marketing is a natural outgrowth of our desire to constantly improve the value we provide to our customers.
CHICAGO (PRWEB) December 02, 2021
Concorde Print & Design, a creative print and design studio specializing in custom projects with fast turnaround, has announced they are now offering comprehensive digital marketing services for businesses nationwide. As an established provider of printed sales and marketing collateral, Concorde is already skilled at managing tight production schedules and challenging requests. This expansion will allow existing clients to outsource additional marketing services from a trusted vendor while positioning Concorde as a one-stop shop for traditional and digital marketing solutions.
Of the decision to expand into online marketing, Concorde owner and president Iva Sinkova said, "Digital marketing is a natural outgrowth of our desire to constantly improve the value we provide to our customers. Now companies can come to us for all their marketing needs, at a fraction of the cost. We've worked hard to earn our reputation for high-quality work delivered on time and within budget. Expanding into the digital realm will help us increase our reach as Concorde continues to grow."
To achieve this significant development, Concorde has acquired NAVEO, a Wisconsin-based marketing agency with over two decades of experience offering:

Web design & development
Search engine optimization (SEO)
Pay-per-click advertising (PPC)
Social media management
Print advertising
Branding
Video production
Content development
Of the new partnership, Sinkova said, "Like us, NAVEO tailors their services to the unique needs of each project with a focus on cost-effective results. We take on projects of all sizes, whether you need a corporate video, trade show displays, or an integrated marketing strategy."
Concorde is a print & design studio with headquarters in the Chicago Loop, serving the printing, design & marketing needs of Chicago-area businesses since 1998. Concorde regularly works with downtown Chicago institutions including Macy's, Cirque du Soleil, Joffrey Ballet, The American Writers Museum and others. For more information please visit - concordeprint.net