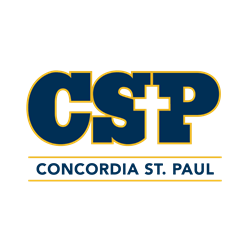 "We can help make a meaningful difference for professionals who help people deal with extremely challenging trauma-related circumstances for better outcomes." - Dr. Eric LaMott, Provost & COO
ST. PAUL, Minn. (PRWEB) March 10, 2021
Concordia University, St. Paul (CSP) today announced two new graduate program options specifically focused on trauma, resilience, and self-care. The new programs, launching in Summer 2021, will offer highly focused curriculum specific to professionals who provide direct care and emergency response, intervention, support, and teleconsultation services. CSP will offer two new options for graduate students:

A 15-credit graduate certificate that includes five courses that can be completed in 10 months.
A Master of Arts degree with an Emphasis in Human Services Trauma, Resilience, and Self-Care that includes 36 credits of coursework completed over 22 months.
The 15-credit certificate program can be associated across a wide range of graduate degree programs, including forensic behavioral health, criminal justice, law, nursing, and other human services-related fields of study. These options were created to address the growing demands on professionals who work directly with people affected by traumatic experiences, empowering them to address real-world challenges they will face while working with people in crisis.
The expanded curriculum options are modeled after CSP's existing Trauma & Resilience in K-12 Education graduate program and certificate offerings. The extended focus of the new program will provide relevant and timely knowledge through coursework focused on:

The foundations of trauma disorders and stressor-related disorders
The impact of childhood trauma on the developing brain
Forensic behavioral health aspects of trauma
The impact of trauma on family systems
Trauma-informed practice, self-care, and resilience strategies
"Many professions, from law enforcement to health and human services and the legal community, face extraordinary human challenges compounded by their personal traumatic experiences. Too often, professionals are unable to provide effective trauma-informed care," said Jerrod Brown, Ph.D., Assistant Professor and Program Director at CSP. "Issues related to complex trauma, toxic stress, and childhood adversity are growing at alarming rates. The challenges are compounded by the emotional toll of COVID-era confinement and isolation along with months of civil unrest locally and nationally, which contribute to increased fear, anxiety, worry, and depression for many individuals needing support services."
"The law enforcement community, in particular, has unique opportunities to deploy more modern approaches when responding to person-in-crisis situations," said Janina Cich, department chair of Criminal Justice & Forensic Behavioral Health at CSP. "By better understanding the root causes of crisis behaviors, law enforcement officers in the field can better assess immediate situations. Concordia's new program can help facilitate real-world change across the spectrum of law enforcement and criminal justice. Such skills can help law enforcement leaders be more responsive to increased public demand for new models of policing."
"Our university continues to pioneer relevant, real curriculum that helps our students bring exceptional value in the job market," said Eric LaMott, provost and COO, Concordia University, St. Paul. "Our faculty continually develops innovative academic programs that align with our students' needs for job-relevant skills to help them stand apart from others. With this new program, we can help make a meaningful difference for professionals who help people deal with extremely challenging trauma-related circumstances for better outcomes."
The content within the new Trauma, Resilience and Self-Care programs is not intended for use in diagnosis or treatment. Instead, this program is designed to enhance a student's professional competencies and promote learning, processing in ways to identify signs and symptoms, when to take action, and where to refer those needing intervention and support.
About Concordia University, St. Paul
Founded in 1893, Concordia University, St. Paul is a private Lutheran liberal arts university that delivers academic programs that are responsive to the needs of our students and relevant to the demands of the job market. One of the most affordable private universities in Minnesota, Concordia St. Paul's student body consists of more than 5,500 students representing all 50 states and 29 different countries. For more information, please visit csp.edu.