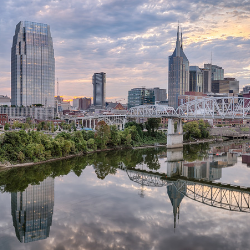 NASHVILLE, Tenn. (PRWEB) April 02, 2019
At least 28 cranes rise against the Nashville skyline, heralding major development, including several billion dollar projects underway within a three-minute drive from downtown. Yet, a number of areas in downtown Nashville have been designated as Qualified Opportunity Zones, low-income census tracts targeted for economic development with tax incentives for investors who re-invest into special funds.[1] "This puts an additional squeeze on available property for development," according to Stephen Epstein, Managing Director of the Réaliste Fund I LP.
Per Epstein, "Land prices are already skyrocketing in downtown Nashville, so once Opportunity Zone investing becomes mainstream, prices will continue to rise as buy-and hold investors seeking to place Qualified Opportunity Fund cash drive up land costs and squeeze out the land available for condominium development. The bottom line is that Opportunity Zone capital will continue to cause land prices to escalate and apartment buildings to be more and more over-built."
There is already a severe shortage of residential condominiums, as well as a scarcity of office condominiums and flex office (small warehouse) space within the Nashville market and opportunity zone capital will only exacerbate this shortage.[4]
According to a recent report from the Nashville Downtown Partnership, inventory supply of all residential condominium in downtown Nashville has remained at three months or less since 2012.[2] whereas a balanced market has a six-month supply of units, which is twice the current amount.
"The scarcity of residential condominium development keeps upward pressure on costs —a dangerous deterrent for the Nashville economy which is appealing for its "lower cost" of living – perhaps not for long," notes Epstein.
This is a particularly pressing issue because of Nashville's demographics. Millennials—young adults between the ages of 20 and 34—make up 22% of the area's population which is higher than the National average.[3] According to the National Association of Realtors, millennials are the most active generation of home buyers; more than a third of all home purchases in 2018 were made by people in this age group. Although there is an overall trend among households to migrate toward urban areas, says the National Association of Realtors, the very low production rate of new condos means there are few affordable options for buyers.[4]
Meanwhile, 18 areas surrounding the Cumberland River in downtown Nashville have been designated as Qualified Opportunity Zones (QOZ). Much of the development stemming from these funds will be more apartment buildings.[5] As positive as the goals of the Qualified Opportunity Zone (QOZ) program are, Epstein observes, one of its effects in Nashville is likely to be a further reduction in the availability of sites and properties available for much-needed condo development. Add to this trend the inherent difficulties in getting condo projects financed through banks without pre-sales, and you get an ongoing "condo shortage" which is predicted to last for years to come.
And while supply is scarce, demand for well situation condominiums in the urban core continues to accelerate from "transplants" relocating from NYC, Chicago, Los Angeles, San Francisco. "I relocated from San Francisco in 2012, remarks Epstein, and it is not any easier to find a beautiful condo in Nashville today than it was 6 years ago. That's tough to believe given how much the city has grown, but true."
In order to answer the call for more residential condo units, as well as other under-supplied real estate niches, Epstein launched the Réaliste Fund I LP in February 2019. With already $60m of projects under development inside the fund, the fund is expanding quickly. Investor interest in Nashville is at an all-time high, and Epstein feels the Réaliste Fund is uniquely positioned to capitalize on the growth in under-served segments of this very hot market.
This announcement is not a solicitation to buy or an offer to sell interest in the Réaliste Fund; such offers will be made only by distribution of a private placement memorandum and only in compliance with applicable law. Investments and services offered by the Réaliste Fund may not be suitable for all investors. Interested parties with any doubts as to the merits of an investment should seek the advice of an independent financial advisor.
About The Réaliste Fund LLP
The Réaliste Fund is a private equity fund that backs real estate development projects in Nashville sponsored by CA South Development.
The Réaliste Fund is unique because it focuses exclusively on ground-up construction and does not hold its investments past stabilization. Réaliste focuses on the development of residential condominiums, small to midsize industrial flex office (warehouse and office), and midsized Class A and B office buildings. Réaliste also acquires and entitles land which it "flips" to Qualified Opportunity Fund buyers in Nashville(QOFs). For more information, visit http://www.realistefund.com/home
1. Website. "Opportunity Zones Frequently Asked Questions." IRS.gov. 2018. Web.
2. "Half of 505 condos now sold," Nashville Post, 5 February2019.
3. "Nashville IT Labor Study," Tennessee Department of Economic & Community Development Center/Center for Economic Research in Tennessee, January 2019.
4. DeSanctis, Adam, "Millennials Lead All Homebuyers, Even as Some Can't Escape Their Parents," National Association of Realtors, 14 March 2018.
5. Mattson-Teig, Beth, "Balancing Nashville's Skyline with More Downtown Density," Urban Land, 19 February 2019.