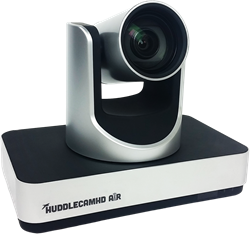 Finally an affordable, easy to setup and use solution for video conferencing camera installations. DIY installations are now possible and professional.
Downingtown, Pennsylvania (PRWEB) March 13, 2015
HuddlecamHD of Downingtown, Pennsylvania has developed and released the very first wireless video conferencing conference room camera. The new wireless camera, named the Huddlecam Air, provides a near zero latency video conferencing connection over USB 3.0 to any modern Mac or PC computer.
Until the Huddlecam Air, conference room users were faced with undesirable and unsightly choices for installing their conference room cameras. The Huddlecam Air eliminates the need for cables between computers located on the conference room table and video conference cameras normally mounted on the front wall. By eliminating cables the installation of video conferencing equipment and cameras is quick, simple and wireless. Without the Huddlecam Air a typical video conferencing camera installation means a mess of cables on the conference room table and across the conference room floor. Huddlecam Air makes it possible for almost anyone to setup a clean, professional video conferencing installation that provides end users a ready to use system.
HuddlecamHD is a division of Haverford Systems of Dowingtown, PA. HuddlecamHD develops and delivers a complete line of HD USB video conferencing cameras for the burgeoning web conferencing market. HuddlecamHD cameras are used by organizations large and small to complete affordable, easy to setup and use video conference rooms. HuddlecamHD cameras are distributed internationally through a network of dedicated conference room video conferencing dealers and installers. HuddlecamHD cameras are available as the standard camera in Conference Room Systems line of Affordable Video Conference Systems.