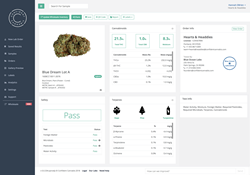 "As more labs join the Confident Cannabis ecosystem, we want to give our users the widest array of tools to use. Expanding our list of LIMS integrations is important to help further our mission to inform cannabis operators and simplify wholesale testing and trade."
SAN FRANCISCO (PRWEB) August 07, 2019
Confident Cannabis is pleased to announce CGM LABDAQ and LabWare as approved integration partners to connect even more labs to the cannabis industry. This integration also brings more cannabis producers and retailers to a trustworthy wholesale platform powered by verified lab results.
These partnerships provide new options of integrated Laboratory Information Management Systems (LIMS) with enhanced cannabis-specific features offered by Confident Cannabis. They combine the robust features of mainstream LIMS like LabWare and CGM LABDAQ with the unique cannabis features of Confident Cannabis — such as integrations with the leading seed-to-sale tracking systems (METRC, BioTrack, Leaf Datasystems) — and provide cannabis cultivators, processors and distributors an intuitive and centralized client portal to manage lab results.
"We're thrilled to partner with LabWare and CGM LABDAQ to expand our service offering to cannabis testing labs," says Steve Albarran, CEO of Confident Cannabis. "As more labs join the Confident Cannabis ecosystem, we want to give our users the widest array of tools to use. Expanding our list of LIMS integrations is important to help further our mission to inform cannabis operators and simplify wholesale testing and trade."
Today, nearly half of the labs testing cannabis in the United States offer Confident Cannabis tools to their clients. For Confident Cannabis, being the exclusive LIMS provider for cannabis labs is not the goal; their target is to integrate with LIMS systems to connect more producers to the Wholesale marketplace. To keep the marketplace transparent, the only way is to use verified test results provided by labs that integrate through systems like CGM LABDAQ and LabWare.
"Confident Cannabis is bringing transparency and consistency to the legal Cannabis market place through their real-time database and dedicated cannabis testing portal," explained Kyle Kershner, director of LabWare Cannabis Sales. "We support this effort by offering a purpose-built LIMS solution for cannabis laboratories… enabling labs to automate their sample management, testing, and reporting. Combined, the two systems offer a complete solution for cannabis analysis."
Carl Smith, General Manager of CompuGroup Medical's LAB Division, added, "CompuGroup Medical is pleased to partner with Confident Cannabis, a trusted leader in the ethical cannabis market. Our combined efforts produced integration solutions that will greatly enhance the lab experience and increase overall connectivity for our respective clients. We appreciate and share the company's high standards and are thrilled with the software management solutions we have built together."
About Confident Cannabis
Confident Cannabis was founded to foster a sustainable and vibrant ecosystem in which every ethical cannabis business thrives. Confident Cannabis empowers all verticals in the supply chain—and ultimately consumers—to know what is made, who makes it, and what it's made of, nationwide, in real-time. It's the only place where cannabis producers, processors, wholesalers and retailers showcase and discover products from verified businesses with test results directly from licensed labs. For more information, please visit: https://www.confidentcannabis.com
About CGM LABDAQ
CGM LABDAQ®, from CompuGroup Medical (CGM), is a leading laboratory information management system (LIMS) driving the culture of connectivity in the cannabis community. Our software is designed to manage cannabis testing lab data with instrument analyzer integration, support of multi-step testing protocols, chain of custody, quality control, data review, and inventory management. CGM LABDAQ is bringing its years of experience connecting disparate systems to the cannabis market and is capable of integration with many seed to sale and cannabis management systems like Confident Cannabis as well as regulatory systems. For more information, please visit: https://www.cgmcannabis.com
About LabWare
LabWare has over 30 years of experience as the leading full-featured Laboratory Information Management System (LIMS) for regulated industries. Confident Cannabis is bringing transparency and consistency to the legal Cannabis market place through its real-time database and dedicated Cannabis testing portal. LabWare supports this effort by offering a purpose-built LIMS solution for Cannabis laboratories with a bi-directional interface to the Confident Cannabis platform enabling laboratories to automate their sample management, testing, and reporting. Combined, the two systems offer a complete solution for Cannabis analysis.
https://www.labware.cloud/cannabis
For more information:
Confident Cannabis
Media contact:
Zoe Wilder
zoe(at)zoewilder(dot)com