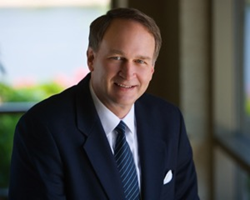 Bill has an impressive record of achievement across the breadth of the healthcare industry and a uniquely progressive outlook on how to evolve best-in-class patient care. ~Larry Benz, CEO Confluent Health
LOUISVILLE, Ky. (PRWEB) November 25, 2019
Confluent Health is proud to announce a key appointment to the Board of Directors, Bill Winkenwerder M.D. Dr. Winkenwerder is a senior executive and physician with more than 30 years of experience in corporate governance, executive leadership, health plans and care delivery systems, health policy, consulting, and healthcare information technology.
Dr. Winkenwerder currently provides strategic support and advisory services for healthcare CEOs and senior leaders as Chairman and CEO of Winkenwerder Strategies LLC, and he serves as Chairman of the Board at CitiusTech, a global leader in healthcare information management. He previously served as CEO at Highmark Health and as the U.S. Assistant Secretary of Defense for Health Affairs. He has served on several corporate boards including at Athenahealth and Athletico Physical Therapy, and currently serves as a Director at WPS Health Solutions, Net Health and Accreon. He is also currently on the Board of Advisors at the Wharton School of Business, Leonard Davis Institutute of Health Economics, and the Board of Trustees at Davidson College.
Dr. Winkenwerder's appointment comes following the significant equity investment by Partners Group, the global private markets investment manager, on behalf of its clients, in Confluent Health, partnering with CEO Larry Benz and management shareholders. Partners Group and Dr. Winkenwerder look forward to working closely with the management team to execute a number of strategic and value creation initiatives to support ongoing organic and acquisitive growth, including driving same-site growth, new clinic openings, expansion of M&A partnership opportunities in new and existing markets, additional partnerships with universities, and strategic and technology investments to support scalability.
"Bill has an impressive record of achievement across the breadth of the healthcare industry and a uniquely progressive outlook on how to evolve best-in-class patient care," said Confluent Health CEO, Dr. Larry Benz, DPT, OCS, MBA, MAPP.
"As Confluent continues to redefine and develop our growing family of private physical therapy practices, graduate and undergraduate education institutions and workplace injury prevention services, I look forward to the injection of new ideas and forward-thinking solutions Bill will bring to our discussions," said Benz.
"Joining the Confluent Health Board of Directors is an honor." said Winkenwerder. "I look forward to working with Larry Benz, an industry visionary, and with the Confluent team and Partners Group. I cannot wait to be a part of the Company's exciting vision. Confluent is an example of top quality patient care. The company is ahead of the curve in reinventing the old model of care by prioritizing patients and actively working to change care pathways for preventing and managing musculoskeletal and movement disorders."
"We are proud to have appointed Dr. Winkenwerder to the Board of Directors at Confluent as the company continues its growth. His impressive background in a variety of healthcare roles positions him perfectly to support Confluent's board and management team during this exciting time for both the company and industry. We are excited to see how his experience helps shape and support the Company's vision," Piotr Biezychudek, Partners Group, added.
###
About Confluent Health:
Confluent Health is a Louisville, Kentucky-based private equity holding company focused on creating a healthcare system that recognizes physical and occupational therapy providers as the Best First Choice for preventing and managing musculoskeletal and movement disorders. Confluent Health offers the following management services: evidence-based practice, patient loyalty, regulatory assurance, marketing and branding, clinic operations, hiring and retention, strategy, accounting and finance, and customer service to BreakThrough Physical Therapy, the Evidence In Motion family of companies, Fit For Work, Pappas Physical Therapy, Physical Therapy Central, ProActive Physical Therapy Specialists, ProRehab Physical Therapy, Redbud Physical Therapy, RET Physical Therapy Group, SporTherapy, and Texas Physical Therapy Specialists. Together, these companies share a common ownership team and are committed to developing a learning, purpose, and coaching culture.