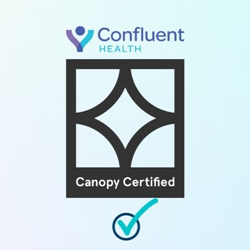 "Growing our good through measurable, positive business practices is key to our continued contribution as a responsible employer and to Louisville's recognition as a premier healthcare innovation hub." - Larry Benz, Confluent Health President and CEO
LOUISVILLE, Ky. (PRWEB) December 08, 2022
Confluent Health is proud to announce their certification as the first healthcare provider and largest employer to hold a Canopy Kentucky Certification.
The Canopy Certification will make Confluent Health the fourth official company to formally commit to expanding its Good Business fundamentals to greater sophistication by measuring impact, setting goals, and continuously improving over time.
Employing 278 Kentuckians and spanning a total employee population of 6,000+, Confluent Health is now the largest employer and first healthcare company to gain Canopy Certification, joining a growing community of companies committed to making Kentucky a front-runner in good business practices.
"Confluent Health is a Kentucky-born and -bred health care company, and we are proud to operationalize our good, ensuring our employees and community are honored, respected, and celebrated," said Confluent Health President and CEO Dr. Larry Benz. "Growing our good through measurable, positive business practices is key to our continued contribution as a responsible employer and to Louisville's recognition as a premier healthcare innovation hub."
As a certified company, Confluent Health will produce an annual impact report to increase transparency and build trust with our customers and employees. They will be held to continuous improvement each year through a series of electives designed to assess our company's unique areas of impact.
"Confluent Health's certification takes our network into a new category of businesses," said Canopy CEO and Founder, Scott Koloms. "As the largest employer among Canopy Certified companies, and the first healthcare provider to be Canopy certified, Confluent Health proves that all kinds of companies can make the commitment to positive social and environmental impact. We're proud to welcome them to Canopy and the good business movement."
Canopy Certification verifies Confluent Health's commitment to positive social and environmental impact through a rigorous assessment of key metrics in leadership, culture, governance, and external impact.
Confluent Health's bolstering outpatient physical and occupational therapy clinic footprint has grown to 48 company partners, spanning 550+ outpatient clinics across 30 states.
In addition to Confluent Health's outpatient physical and occupational therapy clinic footprint, it also houses a higher-education company, Evidence in Motion, who focuses on post-professional training, houses the nation's largest residency and fellowship program, and offers university partnerships in entry-level physical and occupational therapy, and PA programs.
Occupational health company, Fit For Work, holds 1,750+ workplace safety and injury prevention sites in 48 states. PTPN is a national Independent Provider Association, and Confluent Ventures is an Innovation Center with digital health, virtual reality physical therapy, and omnichannel healthcare pathway solutions.
To learn more about Confluent Health, visit http://www.GoConfluent.com.
###
About Confluent Health:
Confluent Health is a family of physical and occupational therapy companies. We are transforming healthcare by strengthening private practices, developing highly effective clinicians, innovating new services and technology to improve the quality of care for patients, and lowering costs via more effective treatment, workplace wellness, and injury prevention. For more information, visit goconfluent.com or find us on Facebook at @ConfluentHealth
About Canopy:
Canopy Certified Inc. is a nonprofit working to support and recognize for-profit businesses with a stated social or environmental mission. Based in Louisville's Portland neighborhood, the organization launched the Canopy Certification in the summer of 2022.