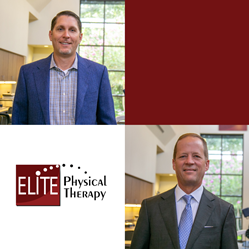 Joining the Confluent Health family will allow our team to continue to treat our patients with innovative and evidence-based interventions as well as advocate for healthy practices in our community.-- Bart Jones, DPT, and Don Cassano, Jr., MPT, DPT, OCS, Elite Co-owners
LOUISVILLE, Ky. (PRWEB) January 22, 2021
Confluent Health has announced its newest partnership with Elite Physical Therapy (Elite), a private and therapist-owned physical therapy and occupational therapy practice located in Alexandria, Louisiana.
"Since opening our doors, Elite has remained dedicated to providing quality patient care in a supportive clinical environment while promoting healthcare and well-being throughout our Alexandria community," said Bart Jones, DPT, and Don Cassano, Jr., MPT, DPT, OCS, Elite's co-owners in a joint statement. "Our team is committed to helping restore function, improve mobility and relieve pain, while also reducing the need for medications and surgery in the future."
To fortify the practice's commitment, Elite is comprised of 10 rehabilitation specialists with over 100 years of physical and occupational therapy expertise. The clinic is also the only physical therapy clinic in Central Louisiana with a Board Certified Orthopedic Physical Therapist (OCS).
"Joining the Confluent Health family will allow our team to continue to treat our patients with innovative and evidence-based interventions as well as advocate for healthy practices in our community."
Under this partnership, Elite will maintain its existing brand while gaining access to Confluent Health's resources, including access to its talent management and education company, Evidence In Motion, as well as Fit For Work, the leading provider of employee safety in well over 1,000 locations across the U.S. and Canada.
"It's always a pleasure to partner with long term friends and with a clinic that really leaves its mark on a tight-knit community, and that is Elite for Alexandria," says Confluent Health's President and CEO Larry Benz, PT, DPT, OCS, MBA, MAPP. "Bart, Don and their team are actively fighting the opioid crisis by treating patients with musculoskeletal and chronic pain and, in turn, reducing their need for medication and surgery. This is our calling as Physical Therapists, and Elite is answering that call."
For more information on Elite Physical Therapy, please visit http://www.elitephysicaltherapy.us. To learn more about Confluent Health, visit http://www.GoConfluent.com.
###
About Confluent Health:
Confluent Health is a Louisville, Kentucky-based private holding company focused on creating a healthcare system that recognizes physical and occupational therapy providers as the Best First Choice for preventing and managing musculoskeletal and movement disorders. Confluent Health offers the following management services: evidence-based practice, patient loyalty, regulatory assurance, marketing and branding, clinic operations, hiring and retention, strategy, accounting and finance, and customer service to Advanced and Preferred Physical Therapy, Baton Rouge Physical Therapy-Lake, BreakThrough Physical Therapy, Capitol Physical Therapy, Colorado in Motion, Confluent Physical Therapy, El Paso Physical Therapy Specialists, Elite Physical Therapy, the Evidence In Motion family of companies, Fit For Work, HPRC, Lake Center for Rehab, Mountain River Physical Therapy, OSPT, Pappas | OPT Physical Therapy, Physical Therapy Central, ProActive Physical Therapy Specialists, ProRehab Physical Therapy, PTPN, Redbud Physical Therapy, Rehab Therapy Works, RET Physical Therapy Group, SporTherapy, Strive Physical Therapy & Sports Rehabilitation, TOSPT, Texas Physical Therapy Specialists, Western Berks Physical Therapy and Wellness Group and Xcel Sports Medicine. Together, these companies share a common ownership team and are committed to developing a learning, purpose, and coaching culture.
About Elite Physical Therapy:
Elite Physical Therapy is a privately owned and operated physical therapy and occupational practice located in Alexandria, Louisiana. Their mission is to meet the physical therapy and occupational therapy needs of the people of Central Louisiana through premier, evidence-based care and to service and establish themselves as the providers of choice for non-operative and post-operative musculoskeletal disorders. Elite is the only physical therapy clinic in Central Louisiana with a Board Certified Orthopedic Physical Therapist (OCS). For more information visit elitephysicaltherapy.us.