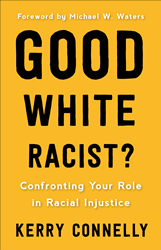 "Kerry Connelly is courageously helping to lead the charge to liberate white people from their own failed perception of goodness, and, instead, inviting them to become true allies for the liberation of all God's people." —Michael W. Waters
LOUISVILLE, Ky. (PRWEB) March 17, 2020
When it comes to race, most white Americans are obsessed with two things: defending our own inherent goodness and maintaining our own comfort levels. Too often, this means white people assume that to be racist, one needs to be openly hateful and willfully discriminatory—you know, a bad person. And we know we're good people, right? But you don't have to be wearing a white hood or shouting racial epithets to be complicit in America's racist history and its ongoing systemic inequality.
In her new book, Good White Racist?, Kerry Connelly explores the ways white people can get to work on confronting racial injustice. So, what exactly is a "good white racist"?
\ good · white · racist \ noun
1. A well-intentioned person of European descent who is nonetheless complicit in a culture of systemic racism
2. A white person who would rather stay comfortable than do the work of antiracism
With scholarly research, Kerry Connelly offers a down-to-earth exploration of the ways white people participate in, benefit from, and unknowingly perpetuate racism—despite their best "good person" intentions. Good White Racist? starts "white folk work," says Rev. Lenny Duncan, author of Dear Church, "in a stunning and powerful volume that acknowledges the problem of white supremacy and its demonic effects on the American landscape and faith.
Chapters explore the gaslighting of people of color, the consumption of black bodies, and the church's participation in systemic racism. Meant to encourage white people to get involved in dismantling the status quo without asking black people and people of color to do the work for them, each chapter ends with Learn, Think, and Act action items. "Kerry Connelly is courageously helping to lead the charge to liberate white people from their own failed perception of goodness, and, instead, inviting them to become true allies for the liberation of all God's people," writes Michael W. Waters in the foreword.
Good White Racist?: Confronting Your Role in Racial Injustice is now available through Westminster John Knox Press.
Kerry Connelly is a writer; Certified Life Coach; author of the no-nonsense blog Jerseygirl, JESUS; and host of the podcast White on White, which reimagines white identity apart from pseudo-supremacy. She is currently pursuing an MDiv at Christian Theological Seminary. She lives in New Jersey with her family.