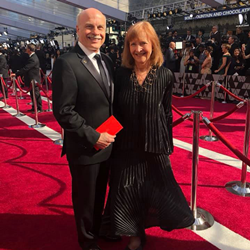 NEW YORK (PRWEB) February 26, 2019
Last night at the 91st Annual Academy Awards, the Oscar for Best Documentary Feature went to Free Solo, directed by Jimmy Chin and Elizabeth Chai Vasarhelyi and edited by New York Film Academy (NYFA) faculty member Bob Eisenhardt.
Eisenhardt is an editing instructor for NYFA's Documentary Filmmaking department. He is a three-time Emmy winner and was previously nominated by the Academy for Best Documentary Short; additionally, he has edited two previous Oscar-winning films: The Divided Trail: A Native American Odyssey and No End In Sight. Eisenhardt also won the American Cinema Editors "Eddie" Award twice, including this year for his work on Free Solo.
Free Solo is the critically-acclaimed and visually arresting National Geographic Films documentary following rock climber Alex Honnold as he makes a record-breaking attempt to scale El Capitan without the aid of ropes. The film was a box office success and has won numerous awards since its premiere, including the BAFTA.
Another nominee in the Best Documentary category was the hit film 'RBG', which was shot by Claudia Raschke, cinematography instructor for the NYFA Documentary Filmmaking Department.
The NYFA community celebrated other nominations as well—Best Actress nominee Glenn Close and Best Supporting Actor nominee Adam Driver are both previous guest speakers for the Academy. NYFA alum Francesco Panzieri worked as a VFX artist on Avengers: Infinity War, which was nominated for Best Visual Effects. Broadcast Journalism alum Celina Liv Danielsen attended the ceremony, covering the red carpet for Danish network TV-2.
Netflix, which produced The Ballad of Buster Scruggs and Best Picture nominee Roma, also had a great night with 15 nominations in total, including two nominees in the Documentary Short category--its film Period. End of Sentence. won the Oscar. Roma won Best Foreign Language Film and picked up Best Director and Best Cinematography for Alfonso Cuarón. In his speech, he thanked Netflix COO Ted Sarandos, who spoke with NYFA students last year, for the support he gave to Cuarón's deeply personal passion project.
The New York Film Academy congratulates all the winners and nominees of the evening and applauds Documentary Filmmaking instructor Bob Eisenhardt for his work on Academy Award winner Free Solo!
About New York Film Academy
The New York Film Academy (NYFA) is a leading visual and performing arts school that offers hands-on intensive programs across 15 areas of study in New York City, Los Angeles, South Beach/Miami, Gold Coast (Australia), Florence (Italy), Mumbai (India), and more. Thousands of aspiring artists come to study at the New York Film Academy each year from over 120 countries. For more information, please visit nyfa.edu.