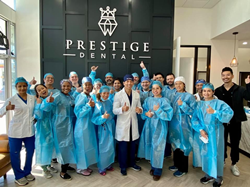 Marquette Dentistry is excited to be able to offer an even better experience for patients visiting for dental implants.
HOUSTON (PRWEB) November 18, 2021
Not many people realize it, but teeth are an integral part of daily life. It's only after someone loses one that it becomes more apparent. With two of Marquette Denistry's Dentists now certified to perform Dental Implants, the clinic is planning on remodeling its office to include both an oral surgery suite and a cosmetic suite.

Congratulations to Dr. Sheila Belcher and Dr. Jamisa Acorn
Recently, two of Marquette Dentistry's Dentists graduated from their Dental Implant course. After extensive training alongside other Dentists and oral surgeons, the two, Dr. Sheila Belcher and Dr. Jamisa Acorn, can now also perform Dental Implant procedures for their patients.
Missing teeth can cause problems such as bone loss, shifting teeth, and bite problems. One option to remedy these situations before they happen is Dental Implants. Dental implants are prosthetic teeth that can substitute for a patient's missing tooth or teeth. Unlike dentures, which are removable, Dental Implants are permanent and work like natural teeth once the procedure is complete.
Dr. Sheila Belcher has over 30 years of experience in General and Cosmetic Dentistry and now has added Dental Implants to her list of certifications and knowledge. Her colleague and associate, Dr. Jamisa Acorn, has over 7 years of experience in General Dentistry and can now also perform implant procedures within the Dental clinic.
Exciting Changes to Marquette Dentistry
Now with their own certified implant specialists among the familiar staff, Marquette Dentistry is planning on remodeling their office to include separate suites specifically for Oral Surgery and Cosmetic Dentistry.
According to the Dental clinic's CEO and President, Carl Belcher, these two new suites will be set across from each other. Both suites will have the necessary equipment exclusive to the particular Dental service. There will be three Hygiene chairs alongside the oral surgery suite and cosmetic suite.
As the year wraps up, the Dental clinic is already beginning to remodel its office to accommodate these changes. According to President Carl Belcher's estimates, everything will be set and ready for their patients in January 2022.
With many years of experience, the Dentists and assistants at Marquette Dentistry aim to provide quality Dental care to the community. And now with more certifications and training under their belts, the Dentistry will be able to service their patients better. For more information, contact the Dental Clinic at (832) 786 – 4406 or follow them on their social media.