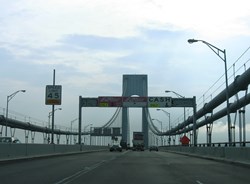 Staten Islanders pay the highest tolls in the land.
Washington, DC (PRWEB) February 06, 2014
Today, Rep. Michael G. Grimm (R,C-NY), applauded Governor Cuomo's announcement that the state and the MTA will provide a toll reduction to $5.50 for Staten Island EZ-Pass holders and a 20% discount for all New York State EZ-Pass holding commercial businesses that make 10 or more trips per month:
"I commend the Governor and our state legislators for taking this bipartisan step in the right direction. I have had many conversations with Senator Lanza and Assemblyman Cusick and know firsthand that they have worked as hard as anyone could to make this happen with the Governor's office. This is an example of how things should work in Albany in a bipartisan fashion," Rep. Grimm said.
"This much needed relief is owed to the collective pressure that all of Staten Island's dedicated elected officials like myself have put on the MTA and the Governor's office for years." Rep. Grimm continued, "Since my election to Congress, I have consistently made toll relief a top priority. For example, I offered legislation in the House to give municipalities the ability to legally provide toll reduction and relief to residents and have organized rallies and press conferences with constituents and community advocates to maintain focus on this crucial issue.
"Staten Islanders pay the highest tolls in the land, a slap in the face when they are already contending with Superstorm Sandy recovery, high property taxes, increasing water bills, and a sluggish economy." The Congressman concluded, "While this is certainly an overdue victory for our community, we must continue to work toward even more relief, especially for the local business that have been crippled by this outrageous toll. We also cannot forget our fight to reduce tolls on the Port Authority bridges that are crushing our local economy, particularly job-creators like the New York Container Terminal."
About Rep. Michael Grimm:
Rep. Grimm represents all of the borough of Staten Island in the House of Representatives, whose residents are burdened with the highest toll rates in the nation.
Visit: http://www.grimm.house.gov.