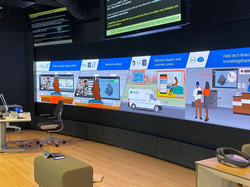 Showcasing our Connected Field Service demo at the MTC Singapore, we hope to help organizations realize the benefits of adopting cutting-edge technologies. - Toru Oike, President of Hitachi Solutions Asia Pacific
SINGAPORE (PRWEB) March 11, 2020
Hitachi Solutions Asia Pacific, a leading provider of global industry solutions powered by the Microsoft Cloud, is pleased to announce that Connected Field Service offering is now being showcased at the Microsoft Technology Center (MTC) in Singapore. The Field Service solution is built on proven Microsoft Technologies including Dynamics 365 Field Service, Azure IoT Suite, Power BI and R integrated with SQL Server.
The MTC caters to collaborative workshops where customers can engage with Microsoft technology architects and its partners in discussions, sessions, and technical courses. It is also a part of Microsoft's first global Experience Center in Asia; a place dedicated for customers to experience immersive technology and explore its extensive portfolio of industry solutions.
"We are delighted to showcase our expertise and provide businesses a comprehensive view of enterprise field service solutions that can help solve their day-to-day business challenges," said Toru Oike, President of Hitachi Solutions Asia Pacific. "Showcasing our Connected Field Service demo at the MTC Singapore, we hope to help organizations realize the benefits of adopting cutting-edge technologies."
As an industry leader and Global Dynamics 365 for Field Service Partner of the Year, Hitachi Solutions promotes field service automation at the premier center which are designed to transform businesses through augmented reality, data insights, and IoT-everywhere solutions. With Connected Field Service, organizations can transform their maintenance optimization process from repair and replace to predict and prevent.
For more information about the Microsoft Technology Centers, visit https://www.microsoft.com/en-us/mtc.
If you need assistance or would like to schedule a demo of the IoT Service Hub for Connected Field Service, please feel free to reach out to us at apac.hitachi-solutions.com/contactus.
---
About Hitachi Solutions Asia Pacific Pte. Ltd.
Hitachi Solutions Asia Pacific helps its customers successfully compete with the largest global enterprises using powerful, easy-to-use, and affordable industry solutions built on the Microsoft Cloud. Hitachi Solutions provides global capabilities with regional offices in the United States, Canada, Europe, India/Middle East, Japan and Asia Pacific. For more information, please visit: http://apac.hitachi-solutions.com/.
About Hitachi Solutions, Ltd.
Hitachi Solutions, Ltd., headquartered in Tokyo, Japan, is one of the core IT Companies of Hitachi Group and a recognized leader in delivering proven business and IT strategies and solutions to companies across many industries. The company provides value-driven services throughout the IT life cycle from systems planning to systems integration, operation and maintenance. Hitachi Solutions delivers products and services of superior value to customers worldwide through key subsidiaries in the United States, the United Kingdom, Canada, India and Asia Pacific. For more information on Hitachi Solutions, please visit: http://www.hitachi-solutions.com.