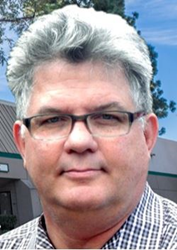 "Luke is a powerful addition to our team," said Dennis Capovilla, Connected Signals' executive chairman. "He has a wealth of experience, along with great technical expertise in V2V and V2I communications. He is the perfect person to lead this effort."
EUGENE, Ore. (PRWEB) April 02, 2019
Connected Signals, Inc. is pleased to announce its recent hire of Luke Faubion as its new SPS Business Development Specialist. The position is new, and Mr. Faubion's responsibility will be to advance Connected Signals' Signal Priority System (SPS) to state and local transportation agencies and municipalities.
Mr. Faubion comes to the company with a significant track record and over 17 years' experience in product development, testing, and building strong customer relationships. He is well-versed in traffic signal systems, collision avoidance, vehicle-to-vehicle communications and work zone safety solutions in transportation and infrastructure industry sectors. This background has helped Mr. Faubion to make an easy transition into his new role at Connected Signals.
"I am excited to join Connected Signals in this newly-created position," said Mr. Faubion. "Connected Signals is very well respected and well positioned to help cities and agencies solve transit and traffic challenges. I am confident that we will successfully share the potential of SPS."
Mr. Faubion has guided sales, product development, new business efforts and increased revenue in his roles at Leotek Electronics, and both Priority Systems Specialist and KM Enterprises selling Emtrac Product. He holds a Bachelor of Arts in Business Administration from San Jose State University.
"Luke is a powerful addition to our team," said Dennis Capovilla, Connected Signals' executive chairman. "He has a wealth of experience, along with great technical expertise in V2V and V2I communications. He is the perfect person to lead this effort."
Mr. Faubion will be based in the company's Bay Area office.
About Connected Signals:
Connected Signals, Inc., based in Eugene, Oregon, is the leading provider of real-time, predictive traffic signal information to connected, autonomous, and electric vehicles. The company's technology, deployed in many cities around the world, enables significant improvements in safety, fuel-economy, carbon-reduction, traffic-flow, and the driving experience.
Connected Signals partners with transportation agencies to aggregate real-time traffic signal data using existing infrastructure, without the expensive equipment required by many other solutions. The company also partners with automotive manufacturers, technology companies, municipalities and OEMs to advance safer and fuel-efficient transportation solutions. For more information, visit us at https://connectedsignals.com or follow us on Twitter at https://twitter.com/ConnectedSigs.
--end--