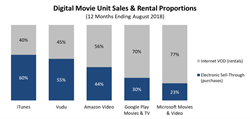 Growth in digital movie transactions is being driven, in part, by access to TV-connected devices, as an increasing number of viewers can simply buy and rent movies right in their living rooms.
PORT WASHINGTON, N.Y. (PRWEB) October 30, 2018
As TV-connected devices become commonplace in U.S. homes more consumers are choosing to rent and purchase digital movies. As of August 2018, 61 million households in the U.S. had at least one internet-connected TV, video game console, Blu-ray Disc player or streaming media player, representing year over year growth of three million homes, according to The NPD Group. Specifically, households with an internet connected TV increased 20 percent and those with streaming media players grew 17 percent. At the same time, digital movie purchase and rental transactions increased 19 percent in the first half of 2018.
"Growth in digital movie transactions is being driven, in part, by access to TV-connected devices as an increasing number of viewers can simply buy and rent movies right in their living room," said John Buffone, executive director, industry analyst, NPD Connected Intelligence. "While greater access begets consumption, certain digital movie providers facilitate ownership over renting."
Among the top five digital movie providers, iTunes users have the highest propensity to buy over rent, because Apple's movie consumers are more affluent and more apt to collect movies. In the 12-months ending August 2018, nearly one-quarter (24 percent) of iTunes movie transactions were motivated by a desire to build a digital collection, leading to more buying than renting, according to NPD's VideoWatch Digital service. Vudu customers were also more ownership focused than the average video consumer, as such 20 percent of transactions were motivated by collecting. In contrast collecting movies only drove 13 percent of Amazon Video digital movie transactions, 9 percent of Google Play movie transactions, and 4 percent of Microsoft Store movie transactions.
"It's long been known that collectability drives ownership and that's no difference in the digital era," Ricardo Solar, president of media entertainment for NPD. "Movie fans will always want to own great films, as such, provider agnostic services like Movies Anywhere are critical for enabling digital sales growth."
Methodology
Information in this press release is based on the results of the NPD Connected Intelligence "Device Ownership Trends & Profile Report," which surveyed 5,677 U.S. consumers, aged 18 and older from diverse regions and demographical backgrounds. This survey was fielded from July 30th through August 7, 2018. Trend is compared to the August 2017 survey, which fielded during a similar period last year. Additional information comes from NPD's Videowatch Digital, which covers purchases of new and previously viewed titles, store-based and subscription-based rental, pay-per-view (PPV), video-on-demand (VOD), paid digital downloads, and free video content streaming.
About Connected Intelligence
Connected Intelligence provides competitive intelligence and insight on the rapidly evolving consumer's connected environment. The service focuses on the three core components of the connected market: the device, the broadband access that provides the connectivity and the content that drives consumer behavior. These three pillars of the connected ecosystem are analyzed through a comprehensive review of what is available, adopted, and consumed by the customer, as well as reviewing how the market will evolve over time and what the various vendors can do to best position themselves in this evolving market. For more information: http://www.connected-intelligence.com.
About The NPD Group
NPD offers data, industry expertise, and prescriptive analytics to help our clients grow their businesses in a changing world. Over 2000 companies worldwide rely on us to help them measure, predict, and improve performance across all channels, including brick-and-mortar and e-commerce. We have offices in 27 cities worldwide, with operations spanning the Americas, Europe, and APAC. Practice areas include apparel, appliances, automotive, beauty, books, B2B technology, consumer technology, e-commerce, fashion accessories, food consumption, foodservice, footwear, home, juvenile products, media entertainment, mobile, office supplies, retail, sports, toys, travel retail, games, and watches / jewelry. For more information, visit npd.com. Follow us on Twitter: @npdgroup.