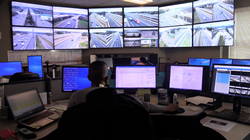 "Connected vehicle technology is transforming the way we operate our roadways. As connected, semi-autonomous and electric vehicles proliferate, we want to be at the forefront of providing a safer, more predictable and reliable travel experience for our customers."
AUSTIN, Texas (PRWEB) May 18, 2021
Waycare, a leading provider of cloud-based artificial intelligence (AI) traffic management solutions, has partnered with the Central Texas Regional Mobility Authority to use real-time anonymized data from connected vehicles and data from advanced roadway sensors to expedite the detection of traffic incidents and improve response and clearance times.
Waycare's system uses machine learning and AI to immediately alert the Mobility Authority's traffic management center personnel of potential crashes and hazards. They are then able to verify these incidents before notifying emergency responders and drivers through tools such as Waze and Twitter. The Mobility Authority and Waycare are also working on a project to send travel alerts directly back to connected vehicles.
"We are integrating real-time connected vehicle data from approximately 1 out of every 10 vehicles on the Mobility Authority's toll roads, as well as incorporating data from their suite of roadway sensors," says Paul-Matthew Zamsky, Head of Strategic Partnerships at Waycare. "This is far too much data for a person to sift through alone, much less glean insights from. This is where Waycare's AI comes in. This technology allows us to sort through billions of data points, identify the relevant information, and make sense of it."
The Mobility Authority operates six toll roads in the Austin, Texas area including one variably priced express lane project on State Loop 1 (MoPac). The Waycare technology is especially valuable on that highly congested and narrow corridor where smooth and safe traffic operations are critical to the driver experience.
"Connected vehicle technology is transforming the way we operate our roadways," says Jeff Dailey, Deputy Executive Director at the Mobility Authority. "As connected, semi-autonomous and electric vehicles proliferate, we want to be at the forefront of providing a safer, more predictable and reliable travel experience for our customers."
In addition to detecting incidents, Waycare is able to predict where and when traffic incidents are likely to occur, enabling traffic managers to concentrate on specific areas for mitigation efforts and giving roadway designers the ability to study the cause of crashes and to pursue operational improvements.
According to Dailey, the Waycare platform is a strategic step in the Mobility Authority's ongoing efforts to embrace new technologies and improve its roadway operations in preparation for the shift to future modes of transportation.
The Mobility Authority is currently expanding Waycare's coverage to all of its roadways and discussions are underway regarding a potential region-wide deployment of the technology.
About Waycare
Waycare is committed to making today's roads safer and more accessible through its cloud-based, artificial intelligence (AI) traffic management and transit solutions. Waycare works collaboratively with traffic management centers, law enforcement, service patrol, and other agencies to bring together the widest array of data partnerships in the industry to produce an all-in-one traffic management platform. This Software as a Service (SaaS) solution enables actionable traffic safety insights and predictions including real-time automated incident and irregular congestion detection, crash prediction and forecasting, and collaborative tools for more efficient responses and planning to better serve drivers on the roads. For more information, visit http://www.waycaretech.com.
About the Mobility Authority
The Central Texas Regional Mobility Authority is a local, independent government agency created in 2002 to improve the regional transportation system in Travis and Williamson counties. The Mobility Authority implements innovative and sustainable transportation options to enhance quality of life and economic vitality in Central Texas. The Mobility Authority operates 183A Toll, 290 Toll, the 71 Toll Lane, the MoPac Express Lane, the 45SW Toll Road, and the 183 Toll Road. The agency is constructing the 183A Phase III Project and will soon begin the 183 North Project. For more information about the Mobility Authority, visit http://www.MobilityAuthority.com.