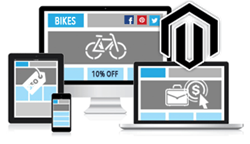 Hartford Magento Developer Offering Product Color Swatches Extension for Magento
Hartford, CT (PRWEB) June 30, 2014
Sales Secret LLC, a Hartford Magento Developer, is excited to offer e-commerce website vendors the ability to replace configurable product options with swatches and show appropriate product image according to selected attributes (discounted during Summer of 2014).
With the Product Color Swatches extension for Magento, store owners can easily display swatches of attribute options on configurable product pages. Show bright and eye-catching images of color, design, etc., as attribute options and be sure that customers will find out how the product will look like.
Visitors can select required attribute options by clicking swatches on product page. After the attributes selection is made, product name, description, price, and image are changed. It's much easier to decide which color or material matches an item when customers see the result right away. A vivid picture of an item appears and fastens the process of customer decision making whether to buy a product or not.
Magento Product Color Swatches Extension Features Include:

Vivid picture of configurable products
Show swatches of product attribute options
Handy options selection of configurable products
Upload images for product attribute options
Display swatch in a pop-up window on mouse hover
Specify width and height of swatches at the backend
Use swatches in layered navigation
AJAX-based reload of product name, description and price
The information on the product page changes according to selected attribute options
Integration with AJAX Cart Pro
A separate tab to manage swatch images
Enable swatches per every attribute separately
Images of the JPEG, PNG format can be uploaded
Apply several attributes with swatch images on a single product
Attribute swatches are used together with dropdown box on configurable products
Unlimited number of attributes support
"Through planning, efficient coding, relentless implementation, and data analysis, we have been changing the face of e-marketing," stated Robert Hadland, Sales Secret LLC representative. "Now with this Booking and Reservation extension for Magento, the game has been taken to an entirely different level."
Sales Secret offers their prospective customers six ways to ignite their sales:
Segment marketing efforts
Optimize for mobile engagement
Build relationships with customers
Localize whenever possible
Act on analytics and available metrics
Cultivate useful loyalty programs
Utilizing tools such as Magento e-commerce website development, custom Magento extension development, Magento Business Intelligence Dashboard integration, and Magento SEO services; Sales Secret has been serving their customers marketing and development needs to increase their sales and profitability.
For more information, visit http://www.salessecret.com/connecticut/hartford-magento-developer.html or call 888 553-9113 to speak with a Hartford (Connecticut) Magento Developer today.