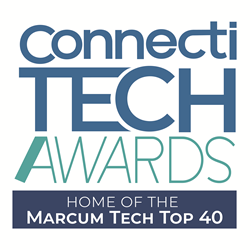 "Growth in Connecticut must and does come from the technology sector, and the companies who attended ConnectiTECH are exemplary of the achievements within the industry we represent in the state."
HARTFORD, Conn. (PRWEB) October 05, 2018
The Connecticut Technology Council (CTC) helped technology companies from Connecticut shine at the inaugural ConnectiTECH Awards: Home of the Marcum Tech Top 40 on the evening of Wednesday, October 3 at the Connecticut Convention Center. CTC named New Haven's District coworking and incubator space the Coolest Tech Workplace. Live voting with audience participation awarded LambdaVision's protein-based retinal implant as the Most Disruptive Technology from Connecticut companies this year. The evening wrapped up as Marcum LLP helped CTC convey the Fastest Growing Tech Company Award to West Haven software firm Device 24.
The award celebration featured a keynote address from Stanley Black & Decker's first-ever Chief Technology Officer, Mark Maybury, whose presentation focused on Connecticut's rich history of innovation and bright future in the space. The more than 300 attendees from technology-focused companies from around the state enjoyed networking, refreshments, dinner, and drinks at the Connecticut Convention Center. The evening was emceed by WFSB's Nicole Nalepa.
The ConnectiTECH Awards, developed out of the decade-long success of the Marcum Tech Top 40 Awards, are designed to expand the types of companies honored within the Connecticut technology ecosystem. Video and slideshow submissions for the Coolest Tech Workplace came in from startups, industry mainstays, and coworking spaces. Most Disruptive Technology applicants offered everything from consumer goods to medical devices, as well as software and apps, for consideration by a preliminary panel of judges.
Farmington's LambdaVision, headed by Nicole Wagner, was named Connecticut's Most Disruptive Technology as voted on live by the ConnectiTECH audience. Their tech is a protein-based retinal implant that will restore high resolution vision to patients blinded by macular degeneration and retinitis pigmentosa. Using similar procedures to surgeries already commonplace for these diseases, the new implant will restore vision and allows for ease of adoption by surgeons.
New Haven's District was named the Coolest Tech Workplace and District COO Johanna Hamilton accepted the award. District won the honor for their combination of branding, aesthetics, and a true, articulated commitment to the technology and growth sector in Connecticut.
The fastest-growing technology company in Connecticut and Marcum Tech Top 40 winner was West Haven's Device42. Founded in 2010, Device42 sells a software product for IT infrastructure management. They have sold it to over 500 medium and large customers (over $50M in revenue) in 58 countries worldwide including some of the world's leading brands.
The 2018 Marcum Tech Top 40 category winners of the evening were:

Alexion Pharmaceuticals, New Haven (Life Sciences)
Device42, West Haven (Software)
Leap the Pond, Milford (IT Services)
MediaCrossing, Inc., Stamford (New Media, Internet, and Telecommunications)
Precision Combustion, Inc., North Haven (Energy, Environmental, or Green Technology)
Revolution Lighting, Stamford (Advanced Manufacturing)
Diameter Health, Farmington (Accelerator Awardee)
LinkAKC, Stamford (Accelerator Awardee)
The Marcum Tech Top 40 recognizes technology companies with at least $3 million in annual revenue and a four-year record of growth, in six industry sectors. Both privately held and publicly traded companies are eligible. This year, 11 publicly traded and 29 privately held Connecticut-based companies were honored.
Bruce Carlson, CTC's President and CEO said of the event, "Growth in Connecticut must and does come from the technology sector, and the companies who attended ConnectiTECH are exemplary of the achievements within the industry we represent in the state. The complete suite of the ConnectiTECH Awards, including the Marcum Tech Top 40, Coolest Tech Workplace, and Most Disruptive Technology lauds the leaders in our sector in Connecticut, and inspires more to follow suit."
CTC encourages interested parties to navigate to ct.org to view the Coolest Tech Workplaces in CT via a video as compiled for the event.
ConnectiTECH Awards sponsor companies included Marcum LLP, Shipman & Goodwin LLC, Webster Bank, WFSB, The Connecticut Department of Economic and Community Development, Comcast Business, SS&C Technologies, Astor Place, Inc., and Other Designs.
About the Connecticut Technology Council
The Connecticut Technology Council is a statewide association of technology-oriented companies and institutions, providing leadership in areas of policy advocacy, community building and assistance for growing companies. Speaking for 2,500 companies that employ some 200,000 residents, the mission of the Connecticut Technology Council is to spark innovation, cultivate tech talent, foster business growth, advocate for industry-beneficial law and policy, expand the scope of industry networking and professional development, and celebrate industry achievements in the state. The CTC seeks to serve Connecticut's technology ecosystem by providing leadership, support, mentoring, and advocacy to companies across every industry and at every stage of growth. For more information, visit http://www.ct.org.
About Marcum LLP
Marcum LLP is one of the largest independent public accounting and advisory services firms in the nation, with offices in major business markets throughout the U.S., Grand Cayman and China. Headquartered in New York City, Marcum provides a full spectrum of traditional tax, accounting and assurance services; advisory, valuation and litigation support; and an extensive range of specialty and niche industry practices. The Firm serves both privately held and publicly traded companies, as well as high net worth individuals, private equity and hedge funds, with a focus on middle-market companies and closely held family businesses. Marcum is a member of the Marcum Group, an organization providing a comprehensive array of professional services. For more information, visit http://www.marcumllp.com.
EDITOR NOTE: COMPLETE LIST OF WINNERS BELOW
CONTACT:
Courtney King
cking(at)ct.org
(860) 289-0878 ext. 338
2018 Marcum Tech Top 40 Companies by Company Name
(Company Name, City, Category)
3Gtms, Shelton, Software
ADNET Technologies, Farmington, IT Services
Advanced Technology Consulting (ATC), South Windsor, IT Services
Alexion Pharmaceuticals, Inc., New Haven, Life Sciences
Amphenol Corp., Wallingford, Advanced Manufacturing
Barnes Group Inc., Bristol, Advanced Manufacturing
Booking Holdings Inc., Norwalk, New Media/ Internet/ Telecom
Chief Executive Group, LLC, Stamford, New Media, Internet, or Telecommunications
Clarity Software Solutions, Inc., Madison, Software
COCC, Southington, IT Services
Cognitive Energy LLC DBA POWWR, Newtown, Software
Continuity, New Haven, Software
Cyma Systems Inc., Manchester, IT Services
Device42 Inc, West Haven, Software
Diameter Health, Farmington, ACCELERATOR
EMCOR Group Inc., Norwalk, Energy/Environmental/Green Technology
etouches, Norwalk, Software
Exago Inc., Shelton, Software
FACTSET Research Systems Inc., Norwalk, Software
Foster Corporation, Putnam, Advanced Manufacturing
HealthPlanOne, LLC, Trumbull, New Media, Internet, or Telecommunications
IT Direct, West Hartford, IT Services
Kyber Security, Fairfield, IT Services
Leap the Pond, Milford, IT Services
Link AKC, Stamford, ACCELERATOR
MediaCrossing, Stamford, New Media, Internet, or Telecommunications
Medpricer, Guilford, Software
Metrum Research Group, Tariffville, Life Sciences
MResult Corporation, Mystic, IT Services
PASSUR Aerospace, Inc., Stamford, IT Services
Payveris, Cromwell, Software
Precision Combustion, Inc., North Haven, Energy, Environment, or Green Technology
RBC Bearings INC, Oxford, Advanced Manufacturing
Revolution Lighting Technologies, Inc., Stamford, Advanced Manufacturing
Saisystems International, Shelton, IT Services
Sheffield Pharmaceuticals, LLC, New London, Life Sciences
Southridge Technology, Brookfield, IT Services
Square 9 Softworks, New Haven, Software
SS&C Technologies Holdings Inc, Windsor, Software
The Marlin Company, Wallingford, Software
U.S. Computer Connection, Stamford, IT Services
United Technologies Corp, Farmington, Advanced Manufacturing