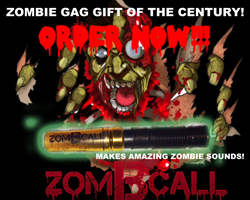 ZomBcall has developed a novelty zombie defense noise maker that we believe will integrate perfectly into CONOP 8888 training exercises and provide our armed forces, as well as the general public
Dallas, TX (PRWEB) September 30, 2014
As part of their Kickstarter promotional campaign ZomBcall.com has offered to assist in training exercises for US Government's "Zombie Apocalypse Plan" known as "CONOP 8888." by providing ZomBcall devices to the Pentagon. The creators of ZomBcall have offered to donate ZomBcall devices to the Pentagon to assist in zombie apocalypse training because they believe that their zombie sound device will be very helpful in zombie combat training simulations.
While it may sound unbelievable that the United States government has actually made a zombie apocalypse defense plan, it is in fact the truth. A recently unclassified document discovered by Foreign Policy Magazine was published in May of 2014. ZomBcall believes that it is their patriotic duty to assist in the defense of Americans in preparing for a fictional zombie apocalypse. To that end they have spent the last year researching and developing what they believe will be a tool and weapon capable of turning the tide in favor of humanity in the event of an all out fictional zombie epidemic.
A direct quote from Gordon Lubold Foreign Policy Magazine May 13, 2014. states, "Incredibly, the Defense Department has a response if zombies attacked and the armed forces had to eradicate flesh-eating walkers in order to 'preserve the sanctity of human life' among all the "non-zombie humans." Buried on the military's secret computer network is an unclassified document, obtained by Foreign Policy, called "CONPLAN 8888 (link to actual government document on Scribd." It's a zombie survival plan, a how-to guide for military planners trying to isolate the threat from a menu of the undead -- from chicken zombies to vegetarian zombies and even 'evil magic zombies' -- and destroy them.". The article entitled "Exclusive: The Pentagon Has a Plan to Stop the Zombie Apocalypse. Seriously.", was published May 13, 2014 by foreignpolicy.com and written by Gordon Lubold.
The inventors of ZomBcall, James Villepigue and Christopher Oliver ask that the public remain calm and pledge their support on Kickstarter.com in order to receive ZomBcall devices in time for the holiday season.
"ZomBcall has developed a novelty zombie defense noise maker that we believe will integrate perfectly into CONOP 8888 training exercises and provide our armed forces, as well as the general public, the best defense against a hypothetical or fictional zombie apocalypse. For more information, please stay tuned to our ZomBcall Kickstarter page. That is all for now," says Christopher Oliver, co-founder of ZomBcall..
ZomBcall is a zombie sound and scare device marketed as the ultimate gift for rabid zombie fans. By making a wide range of authentic TV and movie style zombie sounds ranging from groans, grunts, and moans to screeches, squeals and screams ZomBcall provides zombie enthusiasts endless possibilities for zombie fun. ZomBcall is now available on Kickstarter.com for crowd funding through October 30, 2014. For more information about the ZomBcall zombie sound toy visit their ZomBcall kickstarter page.