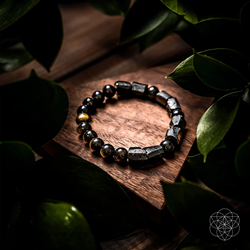 It features black tourmaline, which is one of the most famous protection stones, working to prevent stress, heal anxiety, and soothe panic attacks.
LOS ANGELES (PRWEB) May 03, 2021
Leaders in spiritual design Conscious Items have unveiled the newest in their line of gemstone bracelets: The Spiritual Protection Bracelet. Made with black tourmaline and golden obsidian, this bracelet works to repel negative energies to keep the spirit bright and positive. This key item is currently available directly from Conscious Items, and includes a 30-day money back guarantee.
The Spiritual Protection Bracelet is one of many items that work to provide order and balance to the spirit by harnessing the natural powers seen in our planet's gemstones. It features black tourmaline, which is one of the most famous protection stones, working to prevent stress, heal anxiety, and soothe panic attacks. To some it is seen as a connection between the earth and your spirit, a hand in the darkness to guide you through it. This bracelet is also made with golden obsidian, which is a much lighter stone that helps steer the wearer toward success and well by activating the root chakra. It is constructed with 8 millimeter beads strung around an elastic band that is 16 centimeters (6.3 inches) in length, making it weigh in at 20 grams.
Black Tourmaline is a historied stone which gets its name from both the Sinhalese word "tiramali," which means "something small from the earth," or "turmali," meaning "precious mixed color stone." Archaeological research has shown that tourmaline was utilized by civilizations in the mediteranian including Egyptians and Romans, the later using it to induce sound sleep. A tourmaline stone was discovered with Alexander the Great's visage carved into it, which is said to have been created in the second or third century B.C. Its origins in jewelry began in 1876 when George Kunz, a mineralogist and jeweler, sold a green tourmaline stone from Maine to Tiffany and Co. in New York.
This exquisite gemstone is also said to have a multitude of healing properties. Alternative medicine practitioners recommend it for remedying issues related to the respiratory tract, the circulatory system, and adrenals; the latter playing a significant role in the body's detoxification. Additionally black tourmaline is known to connect the earth with the spirit, grounding the wearer and giving them the ability to see with clarity and objectivity. Finally those familiar with the mineral and chemical composition of this stone know that it can dispel small quantities of electromagnetic radiation, which is emitted from common electronic items; it is advised to keep a piece of tourmaline with you if you spend a lot of time surrounded by
Conscious Items is pleased to add this historic and exceptional stone to its offerings in the form of The Spiritual Protection Bracelet. With a money back guarantee, secure ordering, and 100% real stones, this item can safely be of purifying help to you or your loved ones.
Conscious Items is a leading retailer in rejuvenating gemstones and the holistic medicine they can bring to everyone. With standalone stones and jewelry available, conscious works to make these powerful earthly materials widely available and convenient, so they can help people feel their purest everyday. Those interested in browsing their collection can visit https://consciousitems.com/, or follow Conscious on Facebook, Pinterest, Instagram, or YouTube.