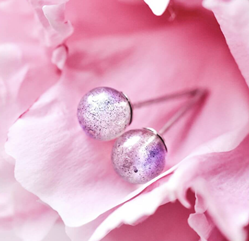 LOS ANGELES (PRWEB) November 15, 2021
Creators of eccentric gemstone jewelry Conscious Items have unveiled their newest work: the Labradorite Stabilization Earrings. This set of ear-pieces is made with genuine labradorite stone that sparkles in authentic, natural colors and provides emotional stability in times of volatility. These are available now exclusively from Conscious Items and will both protect and accessorize the wearer.
Labradorite was originally discovered in 1770 by Moravian missionaries, and thus is a relatively new stone in geological history. It has been adopted in numerous spiritual practices to help inspire creativity, dispel negativity, and balance the Chakras. Sources of the stone are located in Madagascar, Norway, Russia, Australia, and locally in North America within Oregon. Labradorite stone itself does not sparkle in its natural form, but instead only shows true incandescence once it is cut and polished; it has a Mohs' hardness of 6 to 6.5 which makes cutting the stone quite difficult.
Practitioners of the spiritual arts know Labradorite to aid with transformations of the mind through the Third Eye Chakra. Through this process the stone is able to aid the user in their self-discovery, bringing awareness to the conscious and heightening intuition. Labradorite stone is also known to protect the wearer as well, dispelling misfortunes and warding off negativity to alleviate tension and foster trust.
The Labradorite Stabilization Earrings are made with 925 silver hardware around genuine labradorite stones, which are approximately one-quarter of an inch tall. Each one weighs just 0.2 ounces (five grams) making it a delicate but brilliant piece of jewelry.
About Conscious Items: Conscious Items is a leading retailer in rejuvenating gemstones and the holistic medicine they can bring to everyone. With standalone stones and jewelry available, conscious works to make these powerful earthly materials widely available and convenient, so they can help people feel their purest every day. Those interested in browsing their collection can visit https://consciousitems.com/, or follow Conscious on Facebook, Pinterest, Instagram, or YouTube.