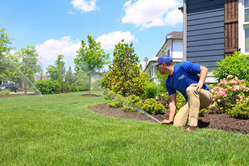 "We are excited to have Sally as one of our newest franchisees," announced Jake Mathre, Director of Franchise Operations for Conserva Irrigation. "With the existing climate and water concerns in the Northwest Portland area, Sally will bring a fresh perspective on proper irrigation and efficiency."
PORTLAND, Ore. (PRWEB) April 06, 2021
Conserva Irrigation is happy to announce that Sally McCurdy has opened a new franchise location serving northwest Portland, Oregon.
Known as Conserva Irrigation of Northwest Portland, McCurdy will lead the team of irrigation designers and technicians in repair, maintenance, and installation of home and commercial irrigation systems.
Some of the Portland areas that Conserva Irrigation will serve include Portland, Hillsboro, and Beaverton.
"We are excited to have Sally as one of our newest franchisees," announced Jake Mathre, Director of Franchise Operations for Conserva Irrigation. "With the existing climate and water concerns in the Northwest Portland area, Sally will bring a fresh perspective on proper irrigation and efficiency."
Conserva Irrigation of Northwest Portland is the very first location in the state of Oregon. Before purchasing Conserva Irrigation of Northwest Portland, McCurdy worked in manufacturing as an Operations Manager in the semi-conductor and metal fabrication industries.
An 'honorary native' of Oregon, Sally has lived in Portland with her husband Pat and two children for over 30 years. During that time, the family has enjoyed the proximity of Portland to Mount Hood and the Oregon coast, camping, hiking, and fishing as much as possible. Having the opportunity to fully appreciate the beauty that water brings to the land, Sally is excited to be part of the Conserva Irrigation family and extend the stewardship of earth's most precious resource.
About Conserva Irrigation
Founded as a franchise in 2017, Conserva Irrigation is the only national outdoor irrigation company founded on the principle of water conservation. The brand is part of Outdoor Living Brands, a market-leading franchisor of premium residential and commercial outdoor living services. With well over 100 territories operating across the country and growing, Conserva Irrigation is helping home and business owners reduce water consumption through its use of a proprietary irrigation auditing system and water-efficient irrigation products. Conserva Irrigation has been listed on Entrepreneur Magazine's Franchise 500 for the past two consecutive years. Additionally, the brand was recognized among Financial Times' 2020 America's Fastest Growing Companies list and the Inc. 5000 2020 ranking. For more information about Conserva Irrigation, visit ConservaIrrigation.com, IrrigationFranchise.com or OutdoorLivingBrands.com.