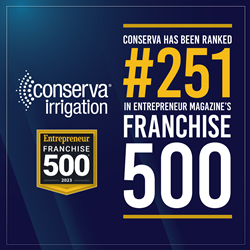 This is the fourth year in a row that Conserva has earned a ranking on this very competitive and prestigious list," says Conserva Irrigation President, Russ Jundt.
RICHMOND, Va. (PRWEB) January 14, 2023
Conserva Irrigation was recognized as one of the top 500 franchises in Entrepreneur's Franchise 500®, which is the world's first, best, and most comprehensive franchise ranking. The 44th annual Entrepreneur Franchise 500® is a highly sought-after honor in the franchise industry.
Recognized as an invaluable resource for potential franchisees, the 2023 Franchise 500® ranks Conserva Irrigation as 251 for its outstanding performance in areas including unit growth, financial strength and stability, and brand power.
"As founder and president of Conserva Irrigation, I couldn't be prouder of our franchise owners and franchise support team. This is the fourth year in a row that Conserva has earned a ranking on this very competitive and prestigious list. And now, to be one of the five incredible brands at Empower Brands to make the Franchise 500, this validates our proven franchise models," says Conserva Irrigation President, Russ Jundt.
"Empower Brands is honored to have Conserva Irrigation in the Franchise 500 which reflects our efforts to champion the success of our franchisees. We are proud of the people who support and represent all of our brands as well as our franchisees who provide our customers best in class service and support for all of their irrigation needs," says Tom Welter, Group President - Residential Brands of parent company, Empower Brands.
To view Conserva Irrigation in the full ranking, visit http://www.entrepreneur.com/franchise500. Results can also be seen in the January/February 2023 issue of Entrepreneur, available on newsstands January 17th.
About Franchise 500
Over its 44 years in existence, the Franchise 500® has become both a dominant competitive measure for franchisors and a primary research tool for potential franchisees. Conserva Irrigation's position on the ranking is a testament to its strength as a franchise opportunity.
"The past year underscores the extraordinary opportunities that the franchise industry presents for entrepreneurs of all levels," says Entrepreneur editor in chief Jason Feifer. "The companies named to our 44th annual Franchise 500 list represent some of the most innovative, creative, and trusted brands across many industries and highlight what it takes to build the kind of momentum that drives long-lasting success."
About Conserva Irrigation®
Founded as a franchise in 2017, Conserva Irrigation is the first and largest national landscape irrigation company in the U.S. and was founded on the principle of water conservation. The brand is part of Empower Brands, a market-leading franchisor of premium residential and commercial service brands headquartered in Glen Allen, VA. With nearly 200 territories operating across the country and growing, Conserva Irrigation is helping home and business owners reduce water consumption through its use of a proprietary irrigation auditing system and water-efficient irrigation products. This is Conserva's fourth year in a row listed on Entrepreneur Magazine's Franchise 500: 2023 #251, 2022 #230, 2021 #295, and 2020 #296. Additionally, Conserva Irrigation is #1 in category (Miscellaneous Maintenance) the past two years. The brand was also recently recognized and ranked on the LM 150 List of Landscape Management magazine's largest landscape companies in 2022 and the Inc. 5000 for the past four years. For more information about Conserva Irrigation, visit ConservaIrrigation.com, IrrigationFranchise.com or EmpowerBrands.com.