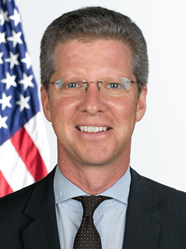 The CSU Awards Gala celebrates the engagement and collaboration of its partners and allied organizations in promoting a better understanding of the role of sustainable urbanization and resilient design in the planning of our cities.
NEW YORK (PRWEB) October 06, 2020
The Consortium for Sustainable Urbanization (CSU) announces its second Gala Award celebration to honor the work of four eminent personalities whose actions have influenced how we plan, design and manage our cities:

Shaun Donovan, Former Secretary of Housing and Urban Development (HUD)
Helena Durst, Principal of the Durst Organization
Alexandria Villaseñor, Fridays for Future Leading Organizer & Founder of Earth Uprising
Claire Weisz, FAIA, Principal-in-Charge, WXY architecture + urban design, New York.
All award citations can be found at the bottom of this press release.
Past honorees have included economist and Columbia University Professor Jeffrey Sachs; Dianne Davis, founder and president of International Council of Caring Communities; Princeton Professor Emeriti Robert Geddes, FAIA; Jonathan Marvel, FAIA of Marvel Architects; and H.E. Dr. Talal Abu-Ghazaleh, founder of TAG Global and Chairman of the CSU Advisory Committee.
 
With the support of long-time partners UN-Habitat, and the American Institute of Architects New York Chapter, the Consortium for Sustainable Urbanization award ceremony included an opening presentation by Maimunah Mohd Sharif, United Nations Under-Secretary-General and Executive Director of UN-Habitat -- introduced by Lance Jay Brown, FAIA, President of CSU -- and with the attendance of renowned design professionals in New York, government officials, UN representatives, NGOs and academics.
CSU has been actively engaged in the adoption of the 2030 Agenda for Sustainable Development in New York in 2015 and the New Urban Agenda at the Habitat III Conference in Quito in 2015. CSU remains instrumental in providing key recommendations and ideas to achieve the United Nation's Sustainable Development Goal (SDG) 11, "Make cities and human settlements inclusive, safe, resilient and sustainable" and to implement the New Urban Agenda, as well as the Paris Agreement.
The Gala Award celebration provides momentum for CSU to congratulate and recognize the engagement and collaboration of its partners and allied organizations in promoting a better understanding of the role of sustainable urbanization and resilient design in the planning of our cities.
As a continuation of the Gala's festivities, Champion Award honoree Claire Weisz, FAIA, will deliver the CSU's inaugural H.E. Talal Abu-Ghazaleh Lecture on 7 October 2020. The title of her lecture is "Millenial Thinking: Reflections on our Designed Future." Registration is free on the CSU Website.
ABOUT CSU
The Consortium for Sustainable Urbanization is a New York-based non-for-profit organization, accredited by the UN Economic and Social Council (ECOSOC). Its purpose is to advocate for responsible and enlightened planning and design. Since 2010, CSU has actively participated in building bridges between the design community, the general public and the United Nations to foster exchange of best practices and innovations on sustainable urbanization. CSU organizes and participates in conferences globally at UN Headquarters, UN-Habitat World Urban Forum, Habitat III and the Center for Architecture of New York. Based on those conferences, CSU publishes books that provide strategic inputs and solutions in the development of effective urban policies that respect our environment and the quality of life for all. An integrated holistic approach across all sectors is an essential prerequisite for the cities of tomorrow.
http://www.CSU.global
 
For more information, contact:
Lance Jay Brown, President, CSU 
lbrown147@gmail.com, or 646-898-7083
Aliye P. Celik, Chair, CSU
aliyepcelik@gmail.com
Award Citations:
PRESIDENT'S AWARD
We honor Shaun Donovan for his dedication to the principles and underlying values of sustainable urbanization and environmental quality in our cities. He has proven this dedication in his extraordinary support of affordable housing, his national leadership in response to natural disasters related to the effects of climate change, and his commitment to broadly addressing our nation's pressing urban issues. Shaun's work supports the high goals of the United Nations New Urban Agenda and Sustainable Development Goals and we welcome his continued leadership locally and globally.
SUSTAINABILITY AWARD
We honor Helena Rose Durst for her enormous commitment to building innovative and sustainable buildings, creating cohesive communities, and raising the standard of living and working. Her contributions and leadership have touched upon an ecosystem of urban life both practical and inspirational: Her involvement spans from an alternative mass transit and waste solutions to her educational role in organic farming and her support of the arts. She continues to use her multidisciplinary involvement to create new standards for improving quality of life and sustainability in cities.
VISIONARY AWARD
We honor Alexandria Villaseñor's passion and for using her time to fight for all of us and for who will join us in the future to be able to experience and enjoy a world in balance, a world that can nourish humanity, a world that is equitable, resilient, sustainable, and beautiful. She represents the desires and the voice of youth and we honor her climate activism, her energy, her founding of climate movements, and for inspiring others to take action at this critical time on earth.
CHAMPION AWARD
We honor Claire Weisz, FAIA, for her contributions to the civic realm and public space, for her planning and design works from street furniture and a joyful carousel to waterfront parks and sophisticated, collaborative, and visionary strategies for ensuring regional coastal resiliency. She has founded and leads civic organizations that preserve and enrich our civic realm, leading by voice and action to serve all our citizens. Her innovative work at multiple scales deserves her recognition as a true and heroic architectural and environmental champion.