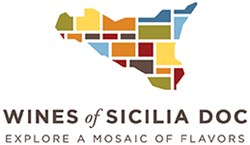 NEW YORK (PRWEB) April 26, 2021
Sicilia DOC, one of Italy's largest and most respected wine producing denominations, has announced the launch of the 2021 edition of the Wines of Sicilia DOC integrated communications program for the United States. To handle the strategic implementation of the program, Sicilia DOC has retained incumbent agency, Current Global, and added Colangelo & Partners as its agencies of record.
The Wines of Sicilia DOC program will continue to engage open-minded Millennial wine and food lovers and, in 2021, add focus to wine industry influencers through a combination of trade and consumer activities split between the two agencies. A partner since 2015, Current Global leads consumer focused integrated media relations including earned media, social media, influencer engagement, paid media, e-commerce and strategic partnerships, with Colangelo & Partners handling trade media relations, press trips, and virtual events for the wine trade.
"We started to invest in the United States in 2015 and since then we've continued to grow the investment. The US is a critical export market for Sicilian wines with great potential," says Antonio Rallo, President of the Consorzio di Tutela Vini Sicilia DOC. The US is the largest importer of Italian wines in the world and continues to grow despite the pandemic. "Our producers are lowering yields per acre and focusing increasingly on the unique characteristics of each of our wine growing sub-regions," continued Mr. Rallo. "We're producing very high quality wines with great expressions of freshness, structure, elegance and aroma. So now it's time to accelerate the promotion of these great wines to American wine lovers."
In 2021, Sicilia DOC will focus on two different but complementary audiences: the wine-loving consumer and the wine trade. The campaign will communicate the high quality and typicity of Sicilian wines, which are 'sustainable by nature.' Sicily produces contemporary wines from an ancient culture that are versatile and can accompany diverse international cuisines. Whether enjoying together in-person or sharing a glass over a virtual chat, wine lovers can appreciate the qualities that Sicilian wines unfailingly deliver. Mr. Rallo concluded, "We're very confident that Current Global and Colangelo & Partners will be a great team, each focusing on their respective specializations in order to help Sicilia DOC achieve our goals."
Sicily is an island in the Mediterranean with a renowned winemaking history stretching back over 3,000 years. Today, that same reputation for world-class winemaking is at the forefront of the new Sicily. Sicilian wine producers pride themselves on the custodianship of over 70 indigenous varieties, a rich diversity of soil types, and being Italy's leader in sustainable and organic viticulture. Sicily is the largest organic wine-growing area in Italy with 34% of the total Italian organic vineyard area. The region also represents a crossroads to Europe, Africa and the Middle East. It is truly the original melting pot and a gateway to flavor influences. Each bottle of wine bearing the designation Sicilia DOC offers a global experience, evoking a rich mosaic of culture and nature every time a glass is enjoyed.
"Awareness and trial of Sicilian wines continues to grow – it's exciting to recognize that since the Wines of Sicilia DOC marketing campaign launched in the US, bottlings have increased from 25 million in 2016 to 90 million in 2020," said Virginia Devlin, CEO of Current Global. "Much of that demand is coming from North America, where people who have discovered
Sicily's drinkable, affordable and unique wines are enjoying those wines more often and telling their family and friends about this unique region."
"We're excited to represent the great wines of Sicily to the US wine trade and honored to be part of this campaign with Current Global," adds Gino Colangelo, president of Colangelo & Partners. "We look forward to building a platform with the wine trade that will contribute to the growth of Sicilian wine consumption in the US and Canada for years to come."
For more information, visit the Wines of Sicilia DOC website or follow Wines of Sicilia DOC on Instagram, Twitter, and Facebook.
About DOC Sicilia
Consorzio di Tutela Vini DOC "Sicilia," recognized by the Italian Ministry of Agriculture, Food and Forestry Policies, aims to strengthen the identity of Sicilian wines, while improving their quality, image and market position. The DOC Sicilia designation introduced in November 2011 includes lower maximum yields per hectare compared with the former IGT regulations. This way, winegrowers aim is quality improvement of their wines in spite of production yields. One of the primary objectives of the consortium is to take the name and brand of the DOC throughout Italy and all over the world. For further information, please visit Wines of Sicily.
About Current Global - http://www.currentglobal.com
Current Global is part of IPG's (NYSE: IPG) DXTRA unit and its portfolio of public relations and communications firms. A midsized global agency with a full-service offering, our team of inquisitive, insightful, and imaginative people mix scientific rigor with creativity to get to the very core of how communications can drive outcomes. Our heritage is a deep understanding of earned media, but we are equally adept at developing integrated campaigns that encompass paid, owned, and social. Discover how we help clients Own the Moment at http://www.currentglobal.com. 
About Colangelo & Partners - http://www.colangelopr.com
Colangelo & Partners is the leading fine wine and spirits integrated communications agency in the United States, sought after by top brands and industry players for the quality of their results, creativity, and return on investment. The professionals at Colangelo & Partners work with integrity and passion to influence how US audiences perceive their clients: Earning consistent, high-quality positive media coverage; organizing signature events; strategizing and executing standout digital campaigns; and implementing trade programs that strengthen relationships within the industry. Colangelo & Partners' clientele includes global, instantly-recognizable brands and passionate, up-and-coming vignerons and distillers; regional and national institutions; and technology and e-commerce companies innovating in the beverage alcohol sector.