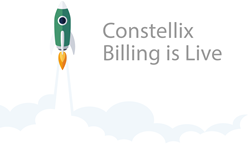 We built Constellix on a pricing structure that only charges clients for the services they use. This is how we are able to offer the most competitive and affordable prices in the industry
Reston, VA (PRWEB) May 09, 2017
The Constellix traffic management suite announced that billing has been enabled for all users as of May 1st, 2017. Clients will be required to add a valid payment method to continue using Constellix services.
"We built Constellix on a pricing structure that only charges clients for the services they use. This is how we are able to offer the most competitive and affordable prices in the industry," says President of Constellix Steven Job.
Constellix is the newest product offering from the development team behind DNS Made Easy. The team took fifteen years of feedback from DNS Made Easy clients to engineer Constellix as the ultimate traffic management solution.
Shortly after Constellix made the announcement that billing was live, the team released a statement explaining why they decided to make Constellix a billable service. The statement cited expanding global infrastructure and development of new services as main drivers for launching billing. The team anticipates new features will begin to roll out over the next few months that will enhance DNS analytics and reporting.
To celebrate the launch, the Constellix team will be hosting an onboarding webinar Wednesday May 10th. The webinar has been designed as both an introduction to how Constellix helps clients manage their DNS and an overview of some of the most requested features. The webinar will guide clients through:

DNS management services
How to integrate monitoring with failover
CNAME round robin and failover
Weighted round robin
Secondary DNS provider integration
and much more…
This webinar is recommended for system administrators, web developers, DevOps, CIO's, and CTO's.
About Constellix
Constellix is a subsidiary of Tiggee, the creators of DNS Made Easy, and the industry leader in providing IP Anycast enterprise DNS services. Constellix is an Internet Traffic Optimization (ITO) company and trailblazer in next-generation traffic management solutions. The Constellix GeoDNS platform offers the most powerful and precise DNS query management, engineered for the cloud. The platform is fully integrated with Constellix Sonar, which offers a range of advanced monitoring features and intelligent analytics tools.