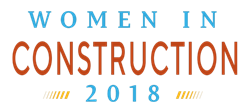 I am deeply honored by this award, and to be recognized as part of this accomplished group.
CAROL STREAM, Ill. (PRWEB) August 23, 2018
Constructech magazine held the Fourth annual 2018 Women in Construction awards at a dinner on Wednesday, August 22 at 7 p.m. at Carlucci Restaurant in Rosemont, Ill.
The evening included a cocktail reception, dinner, and awards presentation. There was also a panel discussion with previous Women in Construction winners that included Lynn Coffey, founder and owner, ProCon Solutions, Nancy Novak, senior vice president, Compass Datacenters, and Jennifer Suerth, vice president, technical services, Pepper Construction.
"I am deeply honored by this award, and to be recognized as part of this accomplished group," say Jit Kee Chin, chief data officer, Suffolk Construction. "Suffolk is committed to diversity, as it is critical for our industry's growth and evolution that we harness the talents of every individual regardless of gender. At the same time, I look forward to the near future when we no longer need to separately celebrate the success of women, as we will have achieved equality."
Constructech magazine's 2018 Women in Construction recognizes the most successful women working at some of the most forward-thinking and technology-driven companies that are leading the transformation change within the construction industry. Nominations were submitted to the editorial staff at Constructech magazine and then winners were chosen by a group of their peers.
"I truly appreciate all of the women that I had the pleasure to spend one-on-one with at this year's event, which continues to grow yearly" says Peggy Smedley, editorial director of Constructech magazine and president of Specialty Publishing Media. "It was a great evening to celebrate the achievements of some pretty impressive women as well as to take the time to learn from each other. When we all come together we can do great things to help move-the-needle forward for women and for construction as a whole."
The 2018 Women in Construction are:
Stephanie Adamczyk, Ryan Companies
Nicole Baca, Suffolk Construction
Alyssa Bailey, Stronghold Engineering
Joanna Benning, MercyHealth
Jamie Berzon, S.M. Wilson & Co.
Caramy Biederman, Faith Technologies
Heather Bowman, Branch & Associates
Ally Cain, formerly of Fluor Corp.
Janet Callahan, Palmer Paving Corp.
Jit Kee Chin, Suffolk Construction
Ashly Coggins, Fluor Corp.
Catrinia Cook, Cardel Homes
Shelley Doran, Webcor Builders
Sarah Dudek, ARCO Murray Design Build
Kristen Erickson, Pepper Construction
Eva Fryar, Payne Family Homes
Dominika Graham, Plus Group of Companies
Shannon Gwyn, GE Johnson Construction Co.
Liz Hartmann, W. Bradley Electric, Inc.
Sherry Hunyadi, Granite Construction
Sara Hutchcraft, Faith Technologies
Tiffany Ital, Eastwood Homes
Carmen Kasner, NV5
Anna Kennedy, Clark/Sullivan Construction
Stacy Kubit, Kubit Engineering
Stephanie Littlefield, Walsh Group / Walsh Construction
Emily Mays, Manhattan Construction Co.
Becky McCain, Concord General Contracting
Jessica Morrissey, Bald Hill Builders
Suzanne Motica, Kiewit Corp.
Kate Dennis Panks, Johnson Development Associates
Jennifer Parkerson, Welsh Construction
Siggy Pfendler, Columbia Construction Co.
Katrina Pratt, AECOM Tishman
Kimberly Roy, HITT Contracting
Dareen Salama, Lehrer
Melissa Schulteis, Miron Construction Co., Inc.
Cathy Underwood, Branch & Associates, Inc.
Erin Valentine, McCarthy Building Companies
Sheryl Van Anne, M.A. Mortenson Co.
Courtney Donahue Vigrass, Walsh Group / Walsh Construction
Lacy Wargel, Bowen Engineering Corp.
Cassie Warner, Weis Builders
Katie Wells, Brasfield & Gorrie
Jennifer Wukelic, Northwest Construction
"I am inspired by all of this year's Women in Construction winners," says Laura Black, editor, Constructech magazine. "Each women has a very unique story and they represent the future of the construction industry today."
Many of the women, including Chin, will be presenting at the annual Technology Day Conference, which will take place today, Thursday, August 23 in Arlington Heights, Ill. https://constructech.com/tech-day/agenda/
In-depth profiles of the women who made the 2018 Women in Construction list will be in the Fall issue of Constructech magazine, which will be available in print and on the Web in September.
About Constructech Magazine
Constructech has connected hundreds of thousands of construction professionals for 20 years. Constructech's audience is comprised of construction professionals who specify products, systems, and tools in residential, commercial, and industrial building marketplaces. For more information about Constructech, visit constructech.com
About Constructech Technology Day
Constructech Technology Day is a one-day conference that dives into discussions on the use of technology in the construction industry. The conference is open to project managers, CEOs, students, CTOs, IT directors, professors, and more. Technology Day provides attendees with the opportunity to identify ways to effectively use technology to be most efficient in the office and at the jobsite. constructech.com/tech-day/