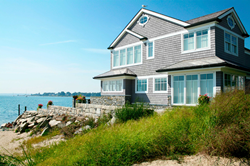 QUEBEC CITY (PRWEB) March 05, 2020
Ralph Bruno, CEO of Derby Building Products and a thirty-year veteran of the building products industry, joins the Constructing Brands podcast to explore his strategy for creating a brand presence and launching a building products company, airing on March 5, 2020.
In the second half of a two-part series, Bruno discusses the intricacies and big picture approach within the building products industry that strengthens brands and builds consumer momentum. Bruno offers tips on initiating the right conversation with buyers and taking new products to market. A branding virtuoso, Bruno launched Tando's Beach House Shake campaign from the start and defined a new shake category three years ago. It quickly ascended within the competitive exterior building materials industry as a consumer-driven brand thanks to Bruno's dynamic brand strategy.
Additionally, Bruno explores his market research tactics and how his team manipulated their timeframe to successfully launch Beach House Shake. Diving deeper into Derby's marketing efforts, Bruno expands upon why focusing on consumers instead of channel partners was better suited for Beach House Shake.
Available March 5th, listen to Constructing Brands Part II: "Launching a Building Materials Brand" with Ralph Bruno: https://gwpinc.com/podcast/building-materials-industry-ralph-bruno-2.
If you missed Part 1, click here for Constructing Brands: "Building a Market Presence" with Ralph Bruno: https://gwpinc.com/podcast/building-materials-industry-ralph-bruno/.
Connect with Ralph Bruno:
LinkedIn: https://www.linkedin.com/in/ralph-bruno-9a56216/
Facebook: https://www.facebook.com/pages/Derby-Building-Products/1661254587503527
About Derby Building Products
Derby Building Products, the leading manufacturer of innovative exterior stone and shake continually redefines these categories for the new construction, replacement, and remodeling markets under the Tando® and Novik® brands. As proven solutions designed to complement mixed material applications, both brands offer unmatched installation benefits and superior performance. The Tando brand is marketed to the builder and pro contractor markets, while Novik is a vinyl siding complement as well as a DIY-focused brand in the home improvement retail channel. All Derby products are impervious to moisture, easy to install, and perfect for mixed material style trends. Derby Building Products operates manufacturing facilities in Quebec, Canada and Miami, FL. For more info on each brand, visit http://www.tandbp.com and http://www.novik.com.
About Tando
Tando's exterior building products leverage innovation and manufacturing technology to solve market challenges such as labor shortages, long lead times, and moisture concerns all while meeting consumer demand for mixed material exteriors and low maintenance. From launching the first polymer shake over 40 years ago to developing the #1 brand of Composite Stone, Tando has a proven history of creating new categories, including TandoStone®, Beach House Shake®, and TandoShake®. Tando is owned by Derby Building Products. For more information, visit http://www.tandobp.com or http://www.beachhouseshake.com.