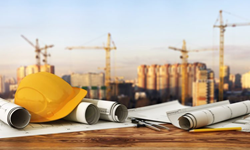 This partnership is all about helping construction companies, contractors, and builders access the right financial tools
AUSTIN, Texas (PRWEB) October 07, 2020
Lendflow today announced a partnership with Procore. This partnership will enable construction companies, contractors, and builders that use Procore's project management software to seamlessly access a wide range of project financing solutions.
"This partnership is all about helping construction companies, contractors, and builders access the right financial tools. Financial products are tools just like any other, and it's critical that you match the right financial product to the objective at hand to maximize its utility," said Jon Fry, CEO at Lendflow. "We've brought together best-in-class construction specific financial products custom for the Procore platform. From capital to purchase new equipment or add new employees to take on new or bigger projects, financing the purchase of materials or supplies during a project, or getting paid upfront for outstanding invoices from slow paying customers, Procore customers now have a construction specific financing solution through the partnership with Lendflow,"
"Contractors and builders around the world rely on Procore to organize and streamline construction workflows, and we are thrilled to expand these capabilities with the new Embedded Experience integration with Lendflow," said Doug Gibson, Business Development Manager at Procore. "Having the ability to seamlessly access project funding applications from directly within Procore will improve ease and speed of project financing for customers and will be a great value-add for our users."
The benefits of this new partnership include:

Seamless access to capital for Procore's users from directly within the Procore software
A simple 5-minute application to access offers from 65+ lenders and banks
Applicants get a dedicated funding advisor to help them navigate their options and find the best capital solution
About Lendflow
Lendflow is a technology leader that provides embedded lending infrastructure for vertical SaaS platforms to launch capital programs for their business customers. We provide all the technology, sales, and support services required to manage the process from application to funding and are partnered with over 65 lenders and banks to offer 20+ capital structures to match the specific needs and use cases of businesses or all shapes and sizes.
Our mission is to enable our clients to help their business customers achieve their true potential through accessing the right structure of capital at the right time. Providing integrated or embedded financial solutions to Procore's customers will allow them to focus on their core business and leave the leg work involved to Lendflow.
About Procore
Procore is a leading provider of construction management software. Over 1 million projects and more than $1 trillion USD in construction volume have run on Procore's platform. Our platform connects every project stakeholder to solutions we've built specifically for the construction industry—for the owner, the general contractor, and the specialty contractor. Procore's App Marketplace has a multitude of partner solutions that integrate seamlessly with our platform, giving construction professionals the freedom to connect with what works best for them. Headquartered in Carpinteria, California, Procore has offices around the globe. Learn more at Procore.com.