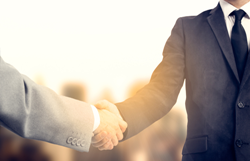 WEST PALM BEACH, Fla. (PRWEB) January 14, 2020
PlanHub and DataBid are pleased to announce they have entered into a national partnership, combining aspects of PlanHub's highly-rated construction bidding software and online plan room solution with features of Databid's construction lead software company.
As technology continues to move at a fast pace in business, software companies recognize the need to provide added features to increase retention and customer loyalty against the competition. The PlanHub-Databid business partnership will provide shared data between both private and public construction projects with their individual user bases. Public projects that are on DataBid will be available to PlanHub users to bid on, and private projects that are on PlanHub will be available to DataBid users to bid on.
"The DataBid team is incredibly excited to have PlanHub as a partner in the Chicagoland area. PlanHub's bid management software offers an easy-to-use platform that gives our customers the ability to post projects and send bid invites. It's the perfect match to the DataBid lead service for any construction firm looking to gain a competitive advantage over their competition." -Jim Lamelza, Founder and CEO of DataBid.
"DataBid is the leader in pre-construction project information for the state of Illinois, which boasts some of the fastest construction growth in the U.S. The partnership we have created with them has helped boost the presence of PlanHub in the Chicagoland area that we did not previously have. There is a huge need for a construction ITB management software like PlanHub, and no other company has a better reputation in Illinois than DataBid for construction project information. This is a huge win for both companies!" - Kyle Conlan (VP & Co-Founder)
By leveraging on each other's strengths and capabilities, together, PlanHub and Databid look forward to many successful initiatives together, as they continue to deliver more access to projects for general contractors, subcontractors, and suppliers, especially in the Midwest.
PlanHub is a top-rated cloud-based construction plan room and bidding software. Built for tradesmen in mind, PlanHub is designed around the user workflow to help boost productivity, maintain deadlines, increase revenue, and build relationships for both general contractors and subcontractors. Easily post projects or submit bids with anytime, anywhere collaboration, for every commercial construction trade. To efficiently tackle your next project and stay connected, check out PlanHub.