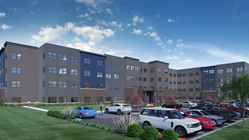 BOURBONNAIS, Ill. (PRWEB) October 21, 2020
A groundbreaking ceremony will be held at 2 p.m. EST on Wednesday, Oct. 28 for Sweet Galilee of Anderson at the Wigwam, a new affordable assisted living community for Anderson seniors who need some help to maintain their independence.
The community, which will be located at 1315 John Street, will serve seniors.
Sweet Galilee is expected to open by the fall of 2021.
The four-story, 111,000 square-foot building will house 130 private studio and one-bedroom apartments.
Each of the private apartments at Sweet Galilee will feature a kitchenette, spacious bathroom with shower and grab bars, individually-controlled heating and air conditioning units, and an emergency alert system.
In addition, Sweet Galilee will have a café, private dining room, lounges, fitness center, theater, physical therapy room, library/computer room and other amenities.
Certified nursing assistants, working under the direction of a licensed nurse, will be on-duty 24 hours a day, seven days a week.
The project will be developed and owned by BWI, LLC, a minority-owned business headquartered in Indianapolis, IN. The community will be managed by Gardant Management Solutions. It will further expand BWI and Gardant's mission of providing residents with the love, compassion and dignity they deserve in addition to the help with medications and personal assistance they need, says Rod Burkett, CEO of Gardant.
American Structurepoint designed the community, and construction will be completed by T&W Construction in partnership with BWI Contractors.
When fully occupied, the community will provide nearly 50 full-time and part-time jobs. Annual payroll with benefits is projected to be over $2.2 million.
Other Indiana assisted living communities managed by Gardant include Belvedere Senior Housing in Merrillville; Glasswater Creek of Lafayette and Glasswater Creek of Plainfield; Hellenic Senior Living in Elkhart, Indianapolis, Mishawaka and New Albany; Heritage Woods and White Oaks at Noblesville; Oasis at 30th and Oasis at 56th in Indianapolis and The Lodge at Summers Pointe in Winchester. Projects under construction include Vivera Senior Living of Columbus.
Individuals interested in having their names added to the list to obtain further information about Sweet Galilee of Anderson at the Wigwam can call 1-877-882-1495 toll-free.