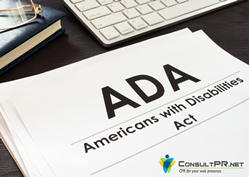 "Make sure your website is accessible and avoid unnecessary lawsuits by taking the first step to making your site ADA compliant. Schedule a consultation with Consult PR."
WEST PALM BEACH, Fla. (PRWEB) February 17, 2021
The Americans with Disabilities Act (ADA) was first passed in 1990, at a time when the internet was not as pervasive as it is now. Over the years, however, ADA compliance has extended to websites. The laws regarding whether a company can be sued if its website is ADA compliant, or as it's known in the industry, A11Y compliant, is not very clear. Over the past couple of years, there has been an uptick in fillings. In 2019 and 2018, 2,256 and 2,258 ADA website-accessibility lawsuits were filed respectively, representing a 177% increase from the 814 lawsuits filed in 2017.
While it is not clear whether these lawsuits will be dismissed as frivolous or whether there will be real judgments, some major companies have faced large settlements because of it. In 2019, Harvard University was required to add high-quality captions or transcripts to all of the video and audio content available publicly online as well as paying the Class Counsel's motion for $1,575,000 in attorneys' costs and fees. In late 2012, Netflix and the NAD (National Association of the Deaf) agreed that Netflix would provide closed captions to 100% of their online streaming content within a two-year period and pay $755,000 in attorney fees and costs, which included fees to monitor the decree. In 2018, multi-million dollar, pizza chain Dominoes lost a suit against Guillermo Robles, who is legally blind, who sued them after he was unable to order a pizza online despite trying both the desktop site and the mobile app using screen-reading software. (rev.com)
Being in the industry, the experts at Consult PR feel like it's their responsibility to let folks know that if you have physical operations and they need to be ADA compliant then your website will be seen as an online store and needs to be A11Y compliant too. They advise that simply getting the process started can help you avoid a lawsuit. Making your website ADA compliant isn't something that can be achieved overnight and in most instances, it becomes an ongoing process. As you add more things to your website (articles, photos, videos, new pages, etc), you will be required to implement ongoing ADA compliance. A lot of times you can get a free analysis of what's wrong with your site and what it might cost to fix it. Making your website ADA compliant is a task any proper web development firm can handle, but if it's not something your web team can handle, Consult PR encourages you to reach out to them at (561) 444-7265.