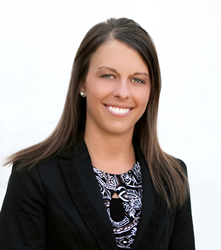 Katie takes the time to truly get to know people, and for Maine Pointe, she is the ultimate role model for all consultants and analysis professionals
BOSTON (PRWEB) March 18, 2020
Global supply chain and operations consulting firm Maine Pointe announced today that Katie Ward, Analysis Director at Maine Pointe, has been acknowledged in Consulting Magazine's "2020 Rising Stars of the Profession" issue for excellence in operations management. In addition to being featured in the March issue of the magazine, winners will also be recognized at a celebratory gala awards dinner in Chicago on April 16.
The publication acknowledged "35 under 35," highlighting 35 of the best consulting professionals in the industry. According to the publication, this select group "is poised to do many great things." This annual recognition includes consultants who have made the biggest impact for the industry and their clients, and includes winners among multiple categories including Leadership, Client Service, and other service line and client industry categories. Ward is also a two-time recipient of Maine Pointe's Peak Performance Award.
The publication recognizes Ward as an accomplished supply chain professional with over ten years of consulting experience, noting that she has built a track record of creating strategic initiatives for senior executives, and has helped generate hundreds of millions of dollars in sustainable EBITDA for mid-size and Fortune 500 companies as well as private equity partners. In her profile, the editors also note that she has identified more than $100 million of client EBITDA financial improvements across end-to-end supply chain in 2019 alone.
"Katie is one of the most dedicated, professional, meticulous, focused and driven consultants I have ever had the pleasure of working alongside," said Stephen Ottley, Executive Vice President, Oil, Gas & Chemicals at Maine Pointe. "The fact that she combines these qualities with humility is what makes her truly exceptional. Katie takes the time to truly get to know people, and for Maine Pointe, she is the ultimate role model for all consultants and analysis professionals."
During her tenure at Maine Pointe, Ward has worked with over 50 clients throughout North America, Europe and Asia to identify supply chain opportunities for clients across multiple industries, including healthcare, pharmaceutical, oil/gas, chemicals, food & beverage, mining, IT, consumer products and manufacturing.
"As part of the world's most sought-after supply chain and operations consulting firm, I consider it a great privilege to represent Maine Pointe and am pleased to be acknowledged as one of Consulting Magazine's Rising Stars of the Profession," Ward said. "This honor is also a reflection of the incredibly talented people at Maine Pointe, their industry insight and personal mentorship, and the value we are able to bring clients through Maine Pointe's Total Value Optimization (TVO)™ methodology." Ward credits Maine Pointe's leadership with her success. "I have had the opportunity to learn from the best," she added. "Maine Pointe has empowered me with the opportunity to expand my skills and grow."
Last year, Maine Pointe's Joe Esteves, Vice President Private Equity, was similarly highlighted in the publication's Rising Stars of the Profession for 2019, where he was quoted saying, "Growth only occurs in a state of discomfort," acknowledging that one of the most important elements of success is to "get past that initial feeling of wanting to return to the norm." Maine Pointe's thought leaders and subject matter experts are consistently recognized, and just in the last three years Maine Pointe has received 13 industry recognition awards due to their outstanding consultants, unique methodologies and track record of success in delivering sustainable growth to clients across all industries.
About Maine Pointe
Maine Pointe, a member of the SGS Group, is a global supply chain and operations consulting firm trusted by many chief executives and private equity firms to drive compelling economic returns for their companies. We achieve this by delivering accelerated, sustainable improvements in EBITDA, cash and growth across their procurement, logistics, operations and data analytics. Our hands-on implementation experts work with executives and their teams to rapidly break through functional silos and transform the plan-buy-make-move-fulfill digital supply chain to deliver the greatest value to customers and stakeholders at the lowest cost to business. We call this Total Value Optimization (TVO)™.
Maine Pointe's engagements are results-driven and deliver between 4:1-8:1 ROI. We are so confident in our work and our processes that we provide a unique 100% guarantee of engagement fees based on annualized savings. http://www.mainepointe.com
About SGS
SGS is the world's leading inspection, verification, testing and certification company. SGS is recognized as the global benchmark for quality and integrity. With more than 97,000 employees, SGS operates a network of over 2,600 offices and laboratories around the world.