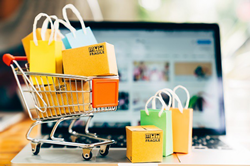 One thing we've learned so far from this crisis is how much consumers and ecommerce merchants need each other," Eaton-Cardone says
TAMPA BAY, Fla. (PRWEB) May 26, 2020
Between January 6 and April 19 of 2020, U.S. online sales of home furnishings and garden supplies increased 369% in terms of transaction volume. Food and beverage sales increased 185% during the same period (except for alcohol, which increased 327%); other categories reporting a sharp upsurge in sales were apparel and accessories (106%) and beauty (216%). Also on the rise were chargebacks—particularly service chargebacks—driven by new-customer impatience with an overburdened delivery and supply infrastructure.(1) Monica Eaton-Cardone, co-founder and chief operating officer of Chargebacks911, urges consumers to be aware that chargeback rules and procedures, for the good of financial institutions, online retailers, and consumers themselves, are overdue for a change.
A chargeback, Eaton-Cardone explains, is what happens when a consumer makes a purchase from a retailer and then seeks a refund from his or her credit card company. While some chargebacks are legitimate and necessary (i.e., there really was a problem with the purchase, and the seller refuses to budge), a very high percentage of them involve either relatively minor service issues or what is known as "friendly fraud": the consumer made the purchase but doesn't want to pay for it.(2) "In the past, many merchants have simply written off chargebacks as a cost of doing business," Eaton-Cardone says. "That approach, however, given the volumes we're dealing with in the coronavirus crisis, is simply no longer sustainable."
The major credit card schemes have taken note of this problem. According to Mastercard, the hardest-hit spending category has been air travel, where the chargeback rate has gone from 0.5% of all transactions to 20% as consumers try to get back money spent on canceled flights. Meanwhile, friendly fraud is also spiking. To help ease the pressure, Mastercard has delayed until July a shortening of the period allowed for dispute resolution from 120 to 90 days.(3) Visa, meanwhile, is shifting more responsibility from merchants (such as airlines) to issuers (the bank that issued the Visa card) to review cases and reject invalid customer inquiries.(4)
The chargeback process, Eaton-Cardone notes, originated as a consumer protection mechanism, put in place to build people's confidence in using credit cards. It was created many years before ecommerce existed, and its developers never contemplated a world in which the majority of transactions did not involve the presence of a live consumer with a credit card in his or her hand (a situation in which friendly fraud would be more or less impossible).
"One thing we've learned so far from this crisis is how much consumers and ecommerce merchants need each other," Eaton-Cardone says. "Right now, consumers have tremendous efficiency and freedom of choice, and merchants have a hungry and exploding market. To fulfill those mutual needs, we need a new approach to chargebacks that will provide the maximum in both freedom and protection for everyone involved."
About Chargebacks911
Chargebacks911 empowers businesses to combat constantly evolving fraud tactics and mounting customer disputes that directly threaten profitability. Operating as The Chargeback Company in Europe, Chargebacks911 has pioneered effective, industry-leading solutions designed to reduce chargeback fraud, alleviate processing costs, mitigate risk and recover revenues. The company's unparalleled expertise and proprietary technology have earned three consecutive CNP Customer Choice Awards for Best Chargeback Management Solution, three successive AI Lions' Den Awards for Best Airline Industry Solution, and Gold and Silver Stevie Awards from the American Business Awards (ABA). With innovative and highly scalable services ranging from Intelligence Source Detection™ (ISD) to Tactical Representment, Chargebacks911 uncovers the true source of chargebacks, battles unjustified disputes, rescues lost revenue, safeguards reputations, and defends against relentless, ever-changing cyberthreats. Chargebacks911 considers themselves to be a hero to the payments industry, nemesis of fraudsters and trusted protector of over 2.4 billion transactions per year, representing clients worldwide. For more information, visit http://www.chargebacks911.com. 
1. "Forter Weekly Report Highlights Coronavirus Chargebacks." Tamebay, 28 Apr. 2020, forter-weekly-report-highlights-coronavirus-chargebacks.html.
2. Shukairy, Ayat. "E-Commerce Fraud And Chargebacks – Statistics And Trends." Invesp, 11 Apr. 2018, invespcro.com/blog/e-commerce-fraud-and-chargebacks-infographic/.
3. Fitzgerald, Kate. "As Coronavirus-Induced Chargebacks Soar, Mastercard Attempts Triage." PaymentsSource, PaymentsSource, 17 Apr. 2020, paymentssource.com/news/as-coronavirus-induced-chargebacks-soar-mastercard-attempts-triage.
4. "New Visa Rules Offer COVID-19 Relief for Some Merchants." Global Banking & Finance Review, 30 Apr. 2020, globalbankingandfinance.com/new-visa-rules-offer-covid-19-relief-for-some-merchants/.