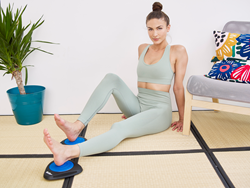 We pride ourselves in picking winning products in the market and we believe that Core Flytes should be in every home.
NEW YORK (PRWEB) April 13, 2020
Consumer media firm DTC ECOMM LLC announced a new partnership with exercise equipment company Flyte Fitness®. The licensing collaboration which launched in February will drive further market growth of the innovative Core Flyte® workout tool currently used by tens of thousands of at-home users, gym-goers, physical therapists, and athletes in over 40 countries.
"We pride ourselves in picking winning products in the market and we believe that Core Flytes should be in every home," said Ronald Steblea, President of DTC ECOMM. "I've seen the success of the Core Flyte over the last few years and I think it's a game changer for the at-home fitness industry."
Steblea previously served as president of Allstar Marketing Group, where he oversaw the development and marketing of at-home product hits, including the Snuggie and Leg Magic. "The Core Flyte has attributes that make it a perfect fit for home use. It's small, portable, effective, and fun to use for all fitness levels," said Steblea. DTC ECOMM is working closely with media agency Cannella Media to leverage its strength across diverse marketing channels – from Amazon, to DRTV, to social media, to retail – to continue to scale this business.
Jeremy Greenberg, CEO of Flyte Fitness, said, "I have a lot of respect for Ron and his team. They have a powerful track record for both identifying popular products and scaling growth, using a wide range of channels and decades of marketing expertise. I want to see Core Flytes in as many homes and fitness clubs as possible, and, with DTC ECOMM's expertise, I am confident that the product will become a ubiquitous workout staple."
Core Flytes provide a comprehensive workout for all fitness levels, and can be used in many different fitness platforms, including group fitness, circuit training, cardio, physical therapy, stretching, yoga, and Pilates. With 95 percent of Core Flyte customers continuing to use the product one year after purchase, customer satisfaction is high.
Core Flytes use patented, ball bearing technology to enable exercisers of all levels to roll with minimal friction and in any direction on any hard, flat surface. Each Core Flyte set includes a pair of the padded, elevated platforms that move using three balls underneath, and can be used under hands or feet. Users get a full-body, core-centric workout to tone, strengthen, and improve overall fitness.
About DTC ECOMM LLC: DTC ECOMM LLC is a $400 million media agency with extensive consumer marketing capabilities. The agency focuses on the DTC (Direct to Consumer) channels, with an emphasis on innovative products for use at home. DTC ECOMM is now the exclusive seller of Core Flytes and all Flyte Fitness products in the U.S., with Flyte Fitness retaining international wholesale rights.
About Flyte Fitness: Flyte Fitness is on a mission to help people improve their cognitive, emotional, and physical health by developing exercise habits on their own terms. The company's flagship product, the Core Flyte, is a revolutionary stability training tool that helps users target their core muscles and build up muscle strength. The Core Flyte strengthens and stabilizes core muscles, while boosting results from traditional bodyweight exercises. Learn more at FlyteFitness.com.