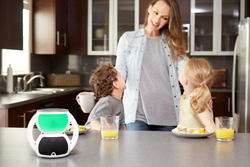 Positive parenting principles that put the focus on desired behaviors are not only effective, but they also bring families closer together.
ANNAPOLIS, Md. (PRWEB) September 25, 2018
Consumer product startup Plus Up, LLC (Plus Up) unveiled an innovative new product designed to revolutionize the way children are taught to demonstrate good behavior. Both a fun family game and an engaging and effective child-development tool, Goodtimer uses positive reinforcement, an appealing design, intuitive and interactive functionality, and a groundbreaking mix of cutting-edge social science and smart game mechanics to encourage good choices and incentivize improved behavior.
"As parents ourselves, we understand that being a parent can be challenging and from time to time we all struggle to manage our kid's behavior," explained Plus Up founder Adam Ashley. "Yelling, timeouts, grounding and other forms of punishment just don't work. Positive parenting principles on the other hand, that put the focus on desired behaviors, are not only effective, they bring families closer together. However, they aren't always easy to learn and apply consistently. That's where Goodtimer comes in."
Created by parents—for parents—the patent-pending product was designed in collaboration with leading childhood behavioral experts. Goodtimer allows kids to earn tangible incentives for good behavior—providing meaningful positive feedback that keeps them motivated and engaged. Children earn Goodtime by making good choices and following their family's house rules. When a child makes a good choice or follows a rule, they simply turn their Goodtimer right side up, lights on both sides of the device illuminate, a positive sound plays through integrated speakers, and it begins tracking Goodtime. Goodtimer's unique and intuitive series of compelling incentives provides kids with the motivation they need to consistently exhibit good behavior and gets them excited to "win" by doing the right thing. Dynamic feedback engages multiple senses: from reusable tokens that can be saved and exchanged for customized incentives, to new graphics, colors, and sounds that are unlocked over time.
Goodtimer has an approachable and appealing hourglass shape and includes an integrated LCD screen displaying emoji-like expressions that correspond to different emotions, so younger children who are unable to read can easily understand their performance status. Earned Goodtime is displayed in units of time or a percentage of time during a given period so parents can track their child's improvement over time. Goodtimer is water- and impact-resistant and is equipped with integrated handles designed to withstand the wear and tear of daily life with children.
Goodtimer is much more than just a game. Included with every Goodtimer system is a charming children's book designed for families to read together and learn about Goodtimer's heartwarming backstory, personality, and mission to help children grow and succeed. Every Goodtimer purchase also comes with access to Plus Up's staff of trained parenting professionals, on-call to provide personal guidance and technical support to ensure families have the best possible experience. "Kids don't come with an instruction manual," says Ashley. "But Goodtimer promises to make life a little easier on parents while offering a fun and engaging experience for kids—making it a welcome new addition to your family routine."
Plus Up's Kickstarter launch aims to raise the $30,000 needed to begin full-scale production. Consumers can pre-order Goodtimer starting at $99 here: pr.go2fund/goodtimer.
About Plus Up, LLC
Plus Up is a company committed to helping parents by incorporating widely accepted positive parenting methods into innovative products that are effective, safe and fun for the whole family. Their patent-pending product, Goodtimer is a family engagement tool that has been developed in collaboration with leading child development experts to help parents raise children who are respectful, responsible and independent while building their self-esteem. To learn more, visit http://www.gogoodtimer.com