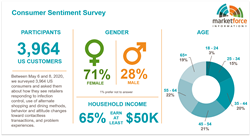 Phil Doriot, Market Force's Vice President of Analytics and Insights explains, "The opportunity for national chains is to commutate the local aspect of the business using store management to create a sense of community and promoting safety procedures."
PEACHTREE CORNERS, Ga. (PRWEB) May 18, 2020
In light of the COVID-19 pandemic, consumer expectations and behaviors are changing in real-time! Market Force Information® wanted to understand the new dynamics of the marketplace as expectations and behaviors are likely to last well past the current crisis. Between May 6 and 8, 2020, we surveyed 3,964 US consumers to learn how they see retailers and restaurants responding to infection control, use of alternate shopping and dining methods, behavior and attitude changes toward contactless transactions, and problem experiences. This is the second wave report, following up a study conducted in early April, has allowed our analytics team to see how consumer's perceptions have changed between wave one and two. From the first wave to the next, we evolved survey questions to seek out a better understanding of consumer behavior to best provide strategic guidance for our clients.
Changes in consumer sentiment from April to May
As consumers are eager to get out, the collective belief that we should continue to shelter in place has decreased 12%, from 80% in April and down to 68% in just a one-month period. Although there is still uncertainty on how the consumer market will operate once this pandemic is over, this most recent study confirmed that shopping behaviors are changing and B2C business will have to adapt to new customer expectations.
As we saw in the first wave, and more apparent in this second wave, consumer sentiment is high for local and independently run business as they receive credit and praise for taking noticeable percussions to keep customers safe. Results show that 41% of local businesses received a five out of five top box rating with how well they have adjusted to keep customers safe, versus 31% when compared to national chains. We see a 10-point gap between local and national brands and a great opportunity for big brands to excel, as Phil Doriot, Market Force's Vice President of Analytics and Insights explains, "The opportunity for national chains is to commutate the local aspect of the business using store management to create a sense of community and promoting safety procedures."
Taking the current pulse of the restaurant industry, survey results demonstrate that 30% of dinners who chose to eat at a new Quick Serve Restaurant (QSR) did so only because their first choice was not open yet. As more families are preparing food and dining at home, availability, scalability and greater satisfaction with family meals deals will represent an opportunity for QSRs and casual dining restaurants to up their game. Contrary to how diners selected a restaurant before the Coronavirus pandemic, they are now seeking out locations with less traffic and contactless food service.
Expectations and Success Drivers
Visits to grocery brands are expected to decrease 22% after the pandemic with annual visits dropping from 85 visits pre-pandemic, to 60 visits during the pandemic, and 65 probable visits post-pandemic. Although trip frequency is down, the good news is basket size is up. To make the most of declined in store visits; the report results demonstrated the following consumer success drivers: having popular items in stock, no crowding in isles and check outlines, and the obvious perception that employees are following cleanliness standards.
Visits to QSR restaurants are expected to decrease 17% after the pandemic with annual visits dropping from 76 visits pre-pandemic, to 49 visits during the pandemic, and 63 probable visits post-pandemic. To make the most of declined visits; the report results demonstrated the following customer success drivers: convenient restaurant location, perceived value for the dollar, and availability of contactless food pick up.
In closing, when it comes to consumer sentiment, we find the most important factor in re-opening the economy is making sure consumers feel safe when they visit your business location. In addition to executing excellence in the overall customer experience, how the brand directs shoppers into the store, supports an organized in store experience, and executes cleaning standards will make the difference in a satisfied customer who is likely to recommend your business to others.
For more details on this study's findings download a recording of the live webinar and please get in touch to receive the full report.
Methodology
To develop the data for this report, Market Force asked survey participants to rate their last experience at a casual dining, QSR, or grocery chain and their likelihood to recommend it to others based on consumer expectations and behaviors in light of the COVID-19 pandemic.
Survey Demographics
The survey was conducted in May 2020 across the United States. The pool of 3,964 respondents represented a cross-section of the four Census regions and reflected a broad spectrum of income levels, with 65% reporting household incomes of more than $50,000 a year. Respondent ages ranged from 18 to over 65 where approximately 71% were female, 28% were male, and 1% preferred not to answer.
About Market Force Information
Market Force Information® is a customer experience consultancy that works with leading restaurant and retail organizations, from the C-suite to front line team members, to empower business transformations that enable sustainable growth in customer satisfaction and financial performance. Operating globally to serve over 200 clients, Market Force is recognized by the AMA Gold Report as a top 50 market research organization and CIO Applications as a Top 10 Analytics Solutions Providers. To learn more about our story and services, please visit us online at http://www.marketforce.com.