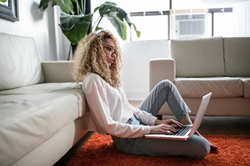 "Visa is the most in-demand gift card because of the choice it provides," said Mark Romanelli, Chief Product Officer at Wolfe LLC, the parent company of Gift Card Granny. "With ecommerce continuing to trend upwards we've seen an increased demand for the Virtual Visa product."
PITTSBURGH (PRWEB) July 21, 2020
Wolfe LLC is proud to announce they now offer Virtual Visa gift cards on Gift Card Granny, one of the oldest gift card and eGift card websites in the world. Consumers have the ability to choose from a variety of denominations and custom gift designs that fit any occasion.
"Visa is the most in-demand gift card because of the choice it provides," said Mark Romanelli, Chief Product Officer at Wolfe LLC, the parent company of Gift Card Granny. "With ecommerce continuing to trend upwards we've seen an increased demand for the Virtual Visa product."
Virtual Visa Gift cards are a versatile payment option as they can be used at a variety of retailers. They can be used for orders by phone and for online shopping. This comes at a critical time when the number of digital shoppers is expected to reach 230.5 million by 2021. †
*Virtual Visa Gift Cards are issued by Sutton Bank®, Member FDIC, pursuant to a license from Visa U.S.A. Inc. Visa Gift Cards are usable everywhere Visa debit cards are accepted in the U.S. No ATM or Cash access.
†Number of digital shoppers in the United States from 2016 to 2021 as projected by Statista.
More information about Virtual Visa Gift Cards can be found here.
ABOUT GIFT CARD GRANNY
Gift Card Granny, a subsidiary of Wolfe, LLC, has been finding the best gift card deals and helping to save shoppers money since 2009. Whether it's groceries, gas, clothing, restaurants and more, Gift Card Granny can help users save money on every purchase.
ABOUT WOLFE, LLC
Founded in 1995, Wolfe, LLC is an innovative Pittsburgh-based investor and incubator. The holding company conceives, invests in and grows innovative financial technology (fintech) and ecommerce businesses. Wolfe's past and current company portfolio include GiftCards.com, OmniCard, Direct Response Technologies, JamboMedia, MyCoupons and Gift Card Granny. The company holds a broad portfolio of patents in the gift card and card-linked offer arena. Find additional details at https://www.wolfe.com.
ABOUT SUTTON BANK
A progressive, privately held independent, community bank, Sutton Bank has consistently been named one of the top small business and agricultural lenders in the State of Ohio. Dedicated to meeting the financial needs of the community, and they are committed to providing exceptional customer service with local decision-making.