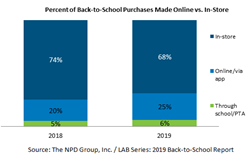 PORT WASHINGTON, N.Y. (PRWEB) August 27, 2019
According to data from The NPD Group, more U.S. consumers are purchasing pre-packaged school supply kits this year than in previous years, when the kits are made available to them. These kits are traditionally offered via a school's PTO/PTA organization, notifying parents or guardians of the option to purchase all their children's school supplies through one site. Recently released data from The NPD Group's Back-to-School Report shows that approximately one in four (27 percent) consumers are offered pre-packaged school supply kits by the schools their children attend. And among those who have access to the kits, 61 percent said they have opted to purchase the kit this year, up from 55 percent last year.
"Consumers who purchase kits are primarily doing so because of the time savings," stated Leen Nsouli, executive director and office supplies industry analyst, The NPD Group. "And while convenience certainly plays a role as a purchase motivator, we've noticed that most aversions to purchasing pre-packaged kits stem from the desire to involve the student in the selection process as well as kit pricing."
The majority of consumers are still purchasing their back-to-school supplies in-store; however, data shows that consumers are seeking out the convenience factor and moving more of their purchases online, inclusive of pure-play online retailers, traditional retailers, and those offering the pre-packaged kits.
Overall, back-to-school season sales are down -3 percent season-to-date due to a confluence of factors. Driving the decline is a nearly 14 percent year-over-year deficit in glue sales. As has been the case during many previous back-to-school seasons, pencils, folders and notebooks still comprise the most popular office supplies categories.
"Warmer-than-usual spring and summer months throughout the country caused retailers to run longer summer seasonal promotions, one factor contributing to slower back-to-school sales. Additionally, I believe teachers may have released their school lists later this year, and as a result school supply list-related categories are tracking behind where they were during the same timeframe in the 2018 back-to-school shopping season," added Nsouli. "The latest data is showing positive sales growth in mid-August, and we expect to see more positive results heading into the early part of September."
###
Source: The NPD Group, Inc. / LAB Series: 2019 Back-to-School Report
About The NPD Group, Inc.
NPD offers data, industry expertise, and prescriptive analytics to help our clients grow their businesses in a changing world. Over 2000 companies worldwide rely on us to help them measure, predict, and improve performance across all channels, including brick-and-mortar and e-commerce. We have offices in 27 cities worldwide, with operations spanning the Americas, Europe, and APAC. Practice areas include apparel, appliances, automotive, beauty, books, B2B technology, consumer technology, e-commerce, fashion accessories, food consumption, foodservice, footwear, home, juvenile products, media entertainment, mobile, office supplies, retail, sports, toys, travel retail, video games, and watches / jewelry. For more information, visit npd.com. Follow us on Twitter: @npdgroup.