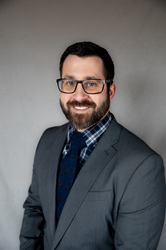 With Cody's expertise, we look forward to watching our front office Customer Care outsourcing program provide as much success for our clients and partners as our back office business process solutions."
EVERGREEN, Colo. (PRWEB) January 20, 2023
DDC FPO, a leading global provider of front and back office outsourcing solutions for the transportation and logistics industries, today announced that Cody Carter will be joining the company as Director of Business Development for Customer Care.
Carter brings over 12 years of experience of proven customer service operational excellence to DDC FPO, having developed, deployed, and managed successful call centers in North America, South America and Asia. He has guided decision-making for technology and identified areas for improvement in day-to-day customer service processes for clients such as Humana, Liberty Mutual, AutoZone, and Charter / Spectrum. Carter's skills in leadership consultation and KPI setting and reporting have delivered customer retention, new customer sales, and existing account growth in a wide range of industries.
"With Cody's expertise in technical setup, daily operations and staffing, he has built call centers that multiply productivity and capacity," said Art Zipkin, chief commercial officer of DDC FPO. "This will be invaluable to our clients.
"He is process-driven, culture-oriented, and maintains a growth mindset," Zipkin added. "That fits perfectly with DDC FPO. With Cody's expertise, we look forward to watching our front office Customer Care outsourcing program provide as much success for our clients and partners as our back office business process solutions."
About DDC FPO
DDC FPO (Freight Process Outsourcing) is a strategic business process outsourcing (BPO) partner for many of today's leading transportation and logistics providers. As the freight-focused member company of The DDC Group — a worldwide network of BPO companies — DDC FPO has operations and customers across North America, the UK, Europe, and Asia-Pacific with services offered in over 30 languages. Solutions include data-based, goal-driven front and back office programs that include freight billing, customer service, inside sales and its intuitive mobile BOL capture application, DDC Sync.. DDC FPO has been named to the Inc. 5000 list of America's Fastest Growing Private Companies for 3 consecutive years. To learn more, visit: ddcfpo.com/