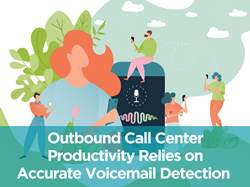 "We're really proud that our achievement of up to 97% accuracy has resulted in increased sales for our customers. In one case, they've jumped to 5 times more sales because of their improved ability to get people on the phone."– Bobby Hakimi, Chief Product Officer and Co-Founder
LOS ANGELES (PRWEB) March 25, 2021
Convoso, developer and provider of outbound contact center solutions, has launched a significant upgrade to its answering machine detection (AMD) for platform customers. The advanced capabilities increase the accuracy of voicemail detection up to 97%.
To develop this advanced voicemail detection technology, Convoso analyzed billions of calls, and drew from over 14 years of experience serving outbound call centers.
"We're really proud that our achievement of up to 97% accuracy has resulted in increased sales for our customers," said Chief Product Officer and Co-Founder, Bobby Hakimi. "In one case, they've jumped up to 5 times more sales because of their improved ability to get people on the phone."
Addressing a Major Obstacle for Outbound Call Center Industry
Outbound call centers depend on dialing a phone number and reaching the person they call. These businesses are usually focused on generating leads or sales for a specific market (e.g., solar panels or health insurance). One of the biggest challenges for the outbound call center industry, besides FCC regulation compliance and telecom call blocking, is the prevalence of voicemail. Companies spend thousands of dollars on leads and call center agent payroll. When a large number of dialed calls never connect with an agent, this represents increased cost and decreased revenue. They are losing money.
But it's not only accuracy that counts for call center productivity. Speed also has a substantial impact.
Industry-leading Speed and Why it Matters
For companies placing thousands, and even millions, of calls per day, the speed of detection is an essential capability. Accelerating the rate of connection of a human-answered call to a live agent adds up to cumulative savings of time and increased productivity. Convoso's upgrade of its AMD, a feature that is included in the dialer software, allows contact centers to customize how calls are classified down to the millisecond.
"Fractions of a second make a big difference for our customers," said Hakimi. "This is another way our AMD tool stands apart from our competitors. We have the ability to connect live leads with an agent in as little as half a second – the typical wait time in the industry is about 2 seconds. By reducing wait times four fold, we help prevent leads from disconnecting the call before speaking to an agent. On top of that, the consumer is much more receptive to a conversation."
Real Life Business Losses for Health Industry Call Center
One Health Direct runs an enterprise scale outbound call center. Before working with Convoso's software, they had all the makings of a robust, profitable call center: Their sales agents are skilled and experienced, and they purchase data-rich leads. But the call center was losing thousands of dollars per month and their commission-driven agents were discouraged. Some new hires left the company, saying they can't make any money sitting around while the calls go to voicemail.
Jesse Daniels, VP of Sales for One Health Direct, said, "Our agents were spending about 70% of their day coding for answering machines. It was very, very unproductive." Payroll is one of the biggest costs for a call center. That meant Daniels' company was paying 70% of their payroll for agents sitting at their desks – and not having conversations, not selling.
After two dialers (call center software) failed to solve the problem, Daniels and his executive team looked for an alternative solution and found Convoso. In a side-by-side trial with the dialer they were using, Convoso detected 70% more answering machines.
Within a month after switching to Convoso, the company had increased sales by 30% and doubled commissions.
Case Study: Side-by-Side Trial with Top Industry Solution
In another side-by-side trial comparing Convoso's AMD with an industry leader in outbound call center software, Convoso's solution outperformed its competitor by detecting 400% more voicemails. This increase in detection meant that the contact center agents encountered 400% fewer obstacles using Convoso's software and had more opportunities to connect with live conversations. Working with 25% fewer agents on the Convoso dialer, the result was 5 times more sales.
"In a head-to-head test against [a leading contact center software's answering machine detection]," said call center consultant Heather Griffin, "agents using Convoso had 5 times as many conversations with leads and generated 5 times as many sales with the same amount of data or less."
Call Center Dialing Campaigns Require Strategies Tailored to Lead Quality
Outbound contact centers purchase data-infused lists of leads for their business, or they generate their own leads. They generally use an auto dialer software to make the calls to leads. Success for a call center depends on determining the best strategy for dialing those leads. Accurately detecting whether a voicemail system or a human has answered the phone is critical to maintaining call center agent productivity. However, there's a caveat.
Every answering machine detection tool in a software's dialer will result in both false negatives and false positives. A false negative occurs when the system has determined that a human has answered, when the reality is that it was voicemail. This wastes agent time as they must code for an answering machine before moving to the next call. Repeated experiences of false negatives begin to impact agent morale and productivity. This is why a high detection rate is essential.
A false positive occurs if the system determines that a voicemail has answered the call when it was in fact a human, and that represents a lost lead. The better the quality of the lead, for example in terms of qualified interest and consent to contact, the more a call center pays for that data-rich lead. Therefore, they want to minimize the possibility of the answering machine detection feature misreading an answered call. They want to reduce false positives.
Convoso's upgraded advanced answering machine detection offers customers the option to customize their preference for false negatives or false positives on an adjustable scale. In this way, contact center managers can customize their dialing campaigns according to the quality of the lists they are using.
Related topics around improving contact center performance can be found on the Company's blog.
About Convoso
Convoso is the industry leader of omnichannel contact center software for sales and lead generation teams. The solution couples the power of an advanced cloud-based dialer with the support of a dedicated product expert to drive customer success. Convoso is continuously innovating to help outbound call centers maximize profitability while supporting TCPA compliance.