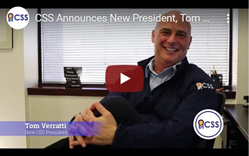 "I am surrounded by amazing people and we have developed a great professional relationship around trust, collaboration, and transparency," says Tom Verratti, President & CFO, Contemporary Staffing Solutions.
MOUNT LAUREL, N.J. (PRWEB) January 26, 2021
Tom Verratti has been promoted into the role of President at Contemporary Staffing Solutions after joining CSS in 2017. Tom will also continue to serve as the company's Chief Financial Officer.
In three short years, Tom has been very successful enhancing financial modeling and reporting to align better with all business units and his focus on "one CSS." Tom has increased transparency with enhanced forecasting technics, allowing for critical investment decisions in new talent and technology. With excellent communication skills, he has brought his authentic strategic leadership style to the table and has put CSS on a path to accelerated growth. Tom has gained the respect of all CSS employees and leaders and trusts those around him by empowering and holding others accountable. He has the unique ability to lead a sales and service team with a keen eye on performance metrics, root-cause analytics and clear action plans that remedy sales, recruitment and other operational challenges. Tom has embraced CSS's positive culture and commitment to continuous improvements.
Tom's vision for long range plans for CSS and his ability to execute, make him the clear choice for the President of CSS. Please join us in congratulating our new President, Tom Verratti. Mike Pearson, Steve Pearson and Sharon Pearson Tsao will continue to operate as the board of directors and advise the leadership team as needed.
"My confidence is extremely high in Tom Verratti. He possesses the unique ability take the strong financial story of CSS and connect it with our most important asset, our employees, and drive the change needed to continue to stay a leader in delivering quality solutions to our customers," Says Mike Pearson, Co-CEO, Contemporary Staffing Solutions.
Below is an overview of the various business units rolling under our new President, Tom Verratti. He has won the confidence of our long tenured leaders which include: Chuck George (20 years), Abby Prince (19 years), Andrea Micucio (15 years) and Evan Violette (9 years).
"I am surrounded by amazing people and we have developed a great professional relationship around trust, collaboration and transparency. Each business leader has a tremendous amount of experience and a strategic mindset to continue accelerating our growth. We will continue to leverage this expertise and CSS will continue to deliver high quality services to both our clients and our candidates, upholding a very strong reputation within the industry," Says Tom Verratti, President & CFO, Contemporary Staffing Solutions.
About Contemporary Staffing Solutions
Founded by Donna Pearson in 1994, CSS is historically known for contingent professional staffing and search solutions to clients, nationally. CSS provides both technical and non-technical top-quality talent, along with a proven search solution focused on building sales teams through contingent direct hires. CSS has been a leading provider of contract, temporary, and direct hire solutions. Nationally supporting talent acquisition with a focus in Accounting & Finance, Human Resources, Sales & Marketing, Information Technology, Salesforce, and Call Center & Office.
Our Professional Service offerings include Salesforce implementations and project management operating under CSS Tec Services. Additionally, we offer a vendor-managed solution for large companies hiring in volume. Independently operating under CSSvSource, this MSP/VMS solution is designed to improve your talent quality while furnishing savings, ensuring compliance, and providing risk mitigation.
Our purpose is to deliver quality solutions, timely and effectively, so your business can surpass your growth goals. Our tenured team of leaders each average more than 13 years of experience at CSS and are guided by the core values of results, respect, integrity, winning spirit, coachable and fun.