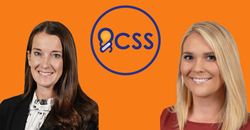 CSS has no doubt that Alyssa and Christina will excel in their roles and is excited to see both offices, and all other CSS offices, grow and succeed.
MOUNT LAUREL, N.J. (PRWEB) December 03, 2019
CSS would like to recognize the promotion of Alyssa (Aly) Reinhard and Christina Louka to Branch Managers of their respective offices. Alyssa began her CSS career at the King of Prussia office, where she has recently become the Branch Manager. Likewise, Christina Louka has now become the Branch Manager of the Mount Laurel office, which is where she began her CSS career. Both branch managers report directly to Alyssa Mastrangelo, the Regional Recruiting Director.
Alyssa Reinhard started her career at CSS at the beginning of 2016 as a Recruiting Administrative Assistant in CSS's King of Prussia office. A mere five months later, Alyssa was promoted to Staffing Specialist—where she is now the Top Performing Staffing Specialist in the PSG division! Alyssa truly leads by example: she is a hard-working Staffing Specialist always willing and ready to help the team. Alyssa's track record of strong teamwork and outstanding results over her years at CSS have led to her recent promotion to Branch Manager of the King of Prussia office.
"Alyssa is a true testament to the growth opportunity with Contemporary Staffing. Alyssa joined us while a full time college student to learn the ins and outs of staffing. She was quickly promoted into a Staffing Specialist role handling full cycle recruitment where she continues to prioritize quality over quantity. Alyssa holds excellent relationships with all of her candidates and has now successfully helped take on several of our large accounts in KOP from a client perspective. She has demonstrated leadership abilities over the past few years and was always the "next in line" go to in KOP when I was out of the office." Says Alyssa Mastrangelo, Regional Recruiting Director, PSG CSS.
"Alyssa exemplifies our core values daily. She brings a solid level of enthusiasm, positivity and passion to work every single day. Alyssa's relationships with her candidates has always stood out. Alyssa is an excellent listener, which drives her recruitment success as well as the success she has working directly with our customers. Alyssa has successfully worked in all of our Recruitment positions out of the King of Prussia office and we're lucky to have her on our team!" Says Evan Violette, Managing Director, PSG CSS.
Christina Louka started her career with CSS in October 2018. Starting as a Recruiter in the Mount Laurel office, Christina quickly learned the business and industry and seamlessly transitioned into Sales. Christina brings extensive hands-on management experience to CSS, as she previously worked in large, multi-store retail operations where she had to recruit, hire, train and retain teams of up to 15 associates. Due to her applicable management experience and her recent strides in staffing, Christina has been promoted to the Branch Manager of the Mount Laurel PSG team.
"Christina is a true leader. There is not a challenge that Christina won't face head on. She brings a wealth of leadership experience to the table. Christina started out Recruiting before transitioning to Sales. During her time in Sales she was able to establish strong relationships with many new customers. She maintains those relationships today as she leads our New Jersey team towards continued growth and success. Christina's sense of urgency paired with her warm approach make her a perfect leader for our team!" Says Evan Violette, Managing Director, PSG CSS.
"Christina has always demonstrated herself as a true professional since she joined CSS as an Account Executive. The clients absolutely love her and she prioritizes her client relationships above all. Christina has always taken a leadership role in the Mount Laurel office before officially being promoted into her new role of Branch Manager. She is a true driver of our winning spirit in the office and always comes to the team with a positive attitude and solutions given any situation that arises. Christina is always willing to speak up with new ideas and go out of her way to ensure that the recruitment team is doing everything they can to meet the clients expectations!" Says Alyssa Mastrangelo, Regional Recruiting Director, PSG CSS.
CSS has no doubt that Alyssa and Christina will excel in their roles and is excited to see both offices, and all other CSS offices, grow and succeed.
About Contemporary Staffing Solutions
Contemporary Staffing Solutions (CSS) is a company that exudes unwavering results with urgency, honesty, and integrity. CSS has been a leading provider of contract, temporary, and direct hire solutions. Nationally supporting Salesforce Projects & Managed Services and staffing solutions with a focus in Accounting & Finance, Human Resources, Sales & Marketing, Information Technology, Salesforce, and Call Center & Office. Everyone at CSS operates with pro-active pipelines, the highest business ethics, a winning spirit in our approach, and a team-oriented workflow with real cross-training. The CSS team coaches you with current business intelligence so that we can timely deliver solutions to meet your expectations. Our testimonials on our website tell the story from our clients and candidates—check them out!