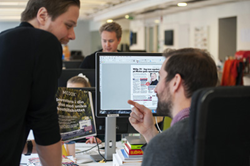 Although we already have some clients we've worked with previously, and now are helping to launch in North America, we will now have a bigger focus on the local businesses, say's Jonna Säll, CEO
NEW YORK (PRWEB) December 02, 2020
N365 Group has been a market leader in Sweden within content marketing since their start over 8 years ago. It's a native advertising business is based on a data driven optimization process that continuously generates value for their clients, providing an effective return on their media investment. The N365 Team creates engaging and relevant content for clients and then distributes the content to the right audience. Using a specialized approach, where content and media are optimized in tandem, advertisers can enhance the effect of their media investments and create higher value with a positive ROI.
The N365 content marketing platform has been successfully rolled out across European markets, where over 70% of advertisers working with the team still use their services after one year.
N365 Group already has a presence in Europe & Japan and has now launched in North America with content marketing campaigns currently active in the US and Canada running for Resorts Casino, for example.
We have already proven that our content marketing platform can deliver value in any market worldwide. With the US being an important market with great potential, it's only natural for us to put a great focus there with a local team on the ground. And we are looking forward to taking part in our client's growth there as well, say's Jonna Säll, CEO at N365 Group.
The innovative platform has developed from being mainly native advertising, to include products ranging from TV and radio to digital marketing, including programmatic and beyond. Although native advertising is still the foundation, the company's products offer everything from handling client's creative development, production and optimization to media planning via programmatic purchases and other specific platforms such as Facebook, Instagram, Google and more.
Although we already have some clients we've worked with previously, and now are helping to launch in North America, we will now have a bigger focus on the local businesses, say's Jonna Säll, CEO at N365 Group.
N365 Group currently has offices in Stockholm, New York, London, Berlin, Oslo, Copenhagen and Helsinki. N365 Group have been voted best Agency in Sweden and won the worldwide competition "Best use of Facebook".
Contact: Peder Hok in Sweden at peder.hok@nyheter365.se or
Bill Collins in the US at bill.collins@n365group.com or 201 406-5894