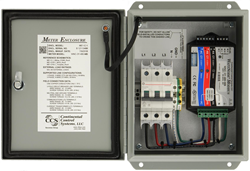 The enclosure is available with three options; a three-phase circuit breaker, a fuse block or no circuit protection, available through our web site store or directly through our customer service department
LONGMONT, Colo. (PRWEB) August 10, 2018
In August at the Energy Exchange Expo in Cleveland, Ohio, Continental Control Systems will highlight its new line of NEMA 4 meter enclosures. The WattNode Meter Enclosure is a UL 508A NEMA 4 enclosure designed and built specifically for the WattNode energy meter. It is available with a three-phase circuit breaker, a fuse block, or no circuit protection. If ordered with a meter, then the WattNode meter comes preinstalled for no additional charge. Suitable for indoor or outdoor use, the WattNode Enclosure is designed for easy and rapid installation.
"Our customers who need these separate enclosures for their meters are tasked to source the meter, current transformers and enclosure and wire everything together in the field. For the cost of the parts, the meter can come fully wired and installed in the enclosure for both ease of use and quick installation" said, Cynthia Boyd, director of sales and marketing at CCS. WattNode energy meters are available in Modbus, BacNet, LonWorks communication or with a pulse output, and all models are available with the enclosure option. Continental Control Systems is recognized as a UL 508A manufacturing house and offers both standard and customized enclosure options for single and multiple metering solutions.
Founded in 1995, Colorado-based Continental Control Systems specializes in high accuracy electric power metering and inverter metering equipment. The company's meters and current transformers are designed to provide standard accuracy and revenue-grade electrical measurements including power (kW) and energy (kWh) through a variety of communication protocols including BACnet®, Modbus®, and LonWorks® or as pulse outputs. Applications for the WattNode® meter and Accu-CT® current transformers include measurement and verification of energy production, energy and power consumption measurement for building automation and energy shed, tenant submetering and net metering. All Continental Control Systems products are listed or recognized by Underwriters Laboratories Inc. for use worldwide.